Astron Constellation
Kit# K-35/1235
Version 2 Blue Skill Level Hang Tag
Version 1 Blue Skill Level Facecard with White K-35/1235 Numbering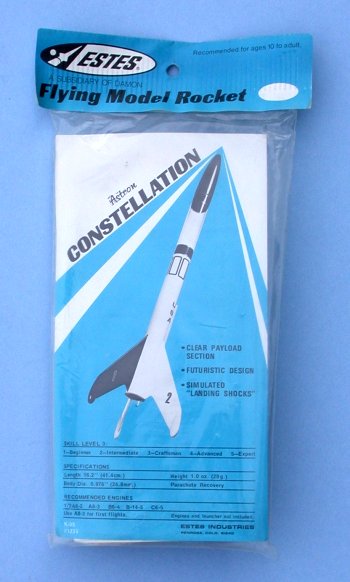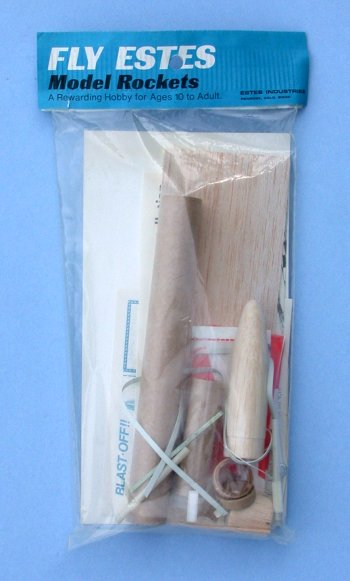 Images by Gerry Fortin
Designer: Unknown
Production Years: 1975-1978
Retail Pricing Range: $2.00
Rarity: Scarce
Description: Astron Constellation kit comprised of Version 2 blue skill level hang tag paired with Version 1 skill level facecard. Though the Estes catalog lists the Constellation as kit #1235 during the 1975-1978 timeframe, the facecard still carries both the #1235 and K-35 kit numbers in white characters. The facecard is typical blue and white skill level design with image of Constellation rocket overlaid on blue background. Kit specifications and engine recommendations are nea the bottom of the facecard.
Estes marketed the Astron Constellation as a sleek high performance single stage rocket with visible payload bay.
The kit features a main body tube, balsa nose cone, balsa block, clear payload section, one sheet of balsa fin stock, 12" parachute, engine mount, launch lug, and instructions.
Additional information can be found at the following links;
JimZ Kit Plan Link: Estes K35
Essense Model Rocket Reviews: Semroc Constellation Clone Kit Review
Specifications: Length (16.2 in), Weight (1.0 oz), Body and Payload Diameters (0.976 in)
Recommended 18 mm Engines: 1/2A6-2, A8-3, B6-4, C6-5
Estes Catalog Artwork