Astron Cobra
Kit# K-10
No Hang Tag, Gusset Bag
Horizontal Red and Black Artwork on White Instruction Sheet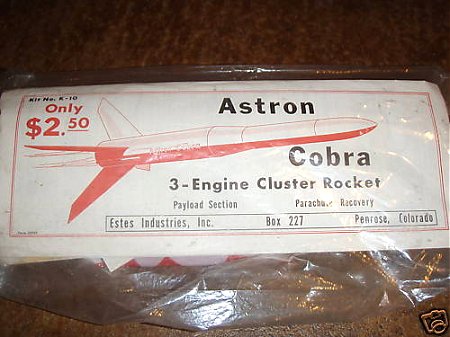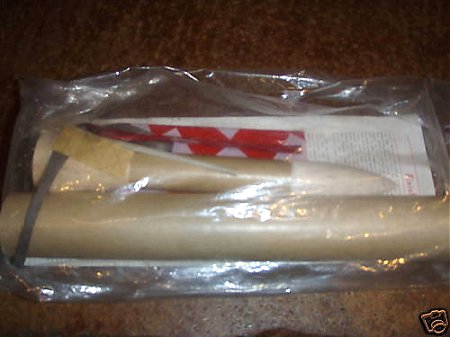 Images from eBay listing
Designer: Bill Simon
Production Years: 1964-1967
Retail Pricing Range: $2.50
Rarity: Very Rare
Description: The initial Astron Cobra kits were produced starting in 1964 through 1967 without a hang tag. Estes placed red and black artwork on a portion of the instruction sheet to act as the facecard. In the above images, The instruction sheet is illustrated with a red rocket outlined image over white background, the name "Astron Cobra" in black letters and a printed price of "Only $2.50". The kit contents and instruction sheet are packaged in a gusset bag without pleats seen on later kits. These early kits were either stapled shut or utilized a temperature sealing tool. Interestingly, the 1964 catalog lists the Astron Cobra kit pricing as $3.50 followed by subsequent years at $2.50.
The Cobra was the first Estes 3 engine cluster model rocket design with 1" diameter payload capsule for experimental projects.
Kit Contents: The kit features a main body tube and payload tube, balsa nose cone, balsa adapter, two sheet of balsa stock for fins, triple engine mounting system, 18" plastic parachutes, launch lug, instructions and Estes TR-6 technical report on clustering techniques.
Availability: Early Cobra kits without a hang tag are considered to be very rare and will bring a substantial premium when appearing for sale on eBay. Expect to pay at least $200 for a nice original kit that is unopened.
Additional information can be found at the following links;
JimZ Kit Plan Link: Estes K10
Essense Model Rocket Reviews: OOP K10 Cobra
Specifications: Length (22.25 in), Weight (2.5 oz), Diameter (1.6 in)
Recommended (3x) 18 mm Engines: A8-3, B8-4
Estes Catalog Artwork