Astron Farside
Kit# K-12
Yellow Hang Tag - Pre Damon Era
Black Letters with Blue Rocket Image on White Instruction Sheet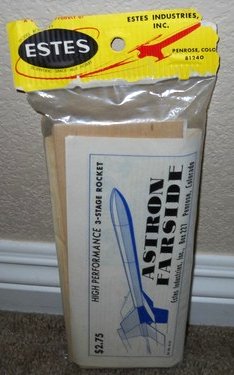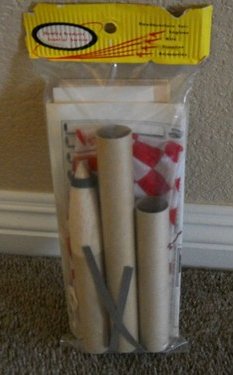 Images from eBay
Designer: Bill Simon
Production Years: 1968-1970
Retail Pricing Range: $2.75
Rarity: Rare
Description: I believe that during the 1968 through 1969 timeframe, Estes continued to utilize the horizontal Astron Farside white instruction sheet with blue Farside rocket coupled with yellow pre Damon hang tag. The white facecard shows the three stage Farside rocket in blue with Astron FARSIDE printed in black. Pricing and kit number are printed on white card as "$2.75" and K-12 respectively. Having not seen a Farside kit with Countdown hang tag, I suspect that Estes issued this kit version until the transition to the two panel facecard and yellow double oval hang tag during
The Farside kit illustrated above appeared on eBay and sold for $166 on May 27, 2012. Note the damaged condition of the yellow hang tag. Regardless, this rare kit brought reasonable monies as difficult to know when another example may appears during the next 3-5 years.
The Farside and Farside X were 3 stage ultra high altitude workhorse rocket of the Estes fleet. Estes rated the kit as skill level 3 and for the experienced rocketeer. Flight up to 2500 feet were claimed in the Estes catalog. The Farside was part of a two model offering whereby the Farside was configured as a standard payload model and the Farside-X featured a larger payload section for experimental work.
Additional information can be found at the following links;
JimZ Kit Plan Link: Estes K12
Essense Model Rocket Reviews: OOP K12X Farside-X
Specifications: Length: 21.5", Diameter: 0.976", Weight: 2.0 oz.
Recommended 18 mm Engines: First Stage: 1/2A6-0, A8-0, B14-0 Second Stage: 1/2A6-0, A8-0, B6-0, B14-0, C6-0, Third Stage: 1/2A6-4, A8-5, B4-6, B6-6, B14-6, C6-7
Estes Catalog Artwork