Astron Farside
Kit# K-12
No Hang Tag - Temperature Sealed Gusset Bag
Red and Black Artwork on White Instruction Sheet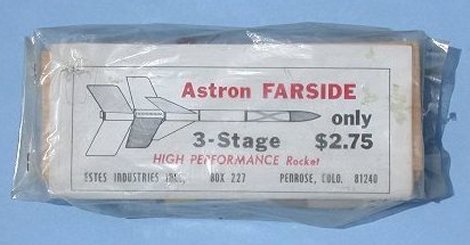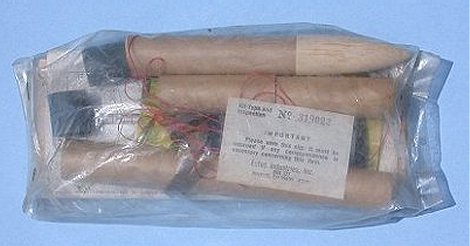 Images by Gerry Fortin
Designer: Bill Simon
Production Years: 1964-1965
Retail Pricing Range: $2.75
Rarity: Very Rare
Description: This is the first Astron Farside kit from the mid 1960s with red and black artwork on a white instruction sheet. Note the temperature sealed gusset bag employed as packaging. The instruction sheet artwork illustrates the three stage Farside rocket in black with Astron FARSIDE printed in red letters. Pricing is also printed as part of the artwork with a black "Only $2.75" kit price. The kit is marked as Astron without Estes kit number.
The Farside and Farside X were 3 stage ultra high altitude workhorse rocket of the Estes fleet. Estes rated the kit as skill level 3 and for the experienced rocketeer. Flight up to 2500 feet were claimed in the Estes catalog. The Farside was part of a two model offering whereby the Farside was configured as a standard payload model and the Farside-X featured a larger payload section for experimental work.
Kit Contents: The Farside kit contains a host of items including; a main body tube, two booster tubes and a payload tube, 18mm engine mounts for the sustainer and two booster tubes, four sheets of balsa fin stock, five stage couplers, balsa nose cone and nose block, a pattern sheet, 12" parachute, launch lug and instruction sheet.
Availability: Initial Farside kits in gusset style bag and no hang tags are very rare. Expect to pay a substantial premium if a problem free unopened kit can be located.
Below is a comparison of the inital Farside and Farside-X instruction card artwork. Clearly the two kit versions were marketed separately by Estes staff based on the different artwork designs. The Farside artwork is much more simplistic and has similar style as the early K-10 WAC Corporal graphics.
Astron Farside (K-12) Astron Farside - X (K-12X)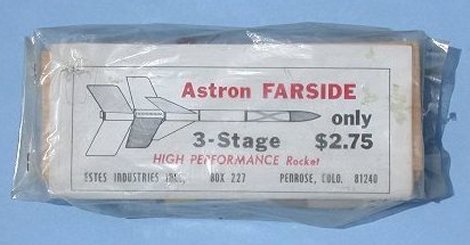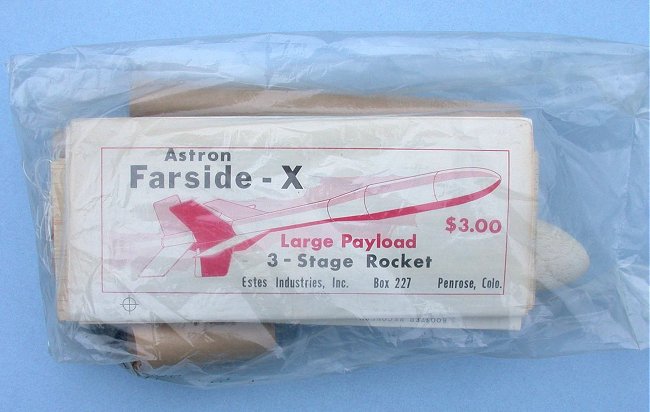 Additional information can be found at the following links;
JimZ Kit Plan Link: Estes K12
Essense Model Rocket Reviews: OOP K12X Farside-X
Specifications: Length: 21.5", Diameter: 0.976", Weight: 2.0 oz.
Recommended 18 mm Engines: First Stage: 1/2A6-0, A8-0, B14-0 Second Stage: 1/2A6-0, A8-0, B6-0, B14-0, C6-0, Third Stage: 1/2A6-4, A8-5, B4-6, B6-6, B14-6, C6-7
Estes Catalog Artwork