Astron Farside-X
Kit# K-12X
Countdown Hang Tag - Damon Era
Green Two Panel Facecard with $3.75 Pricing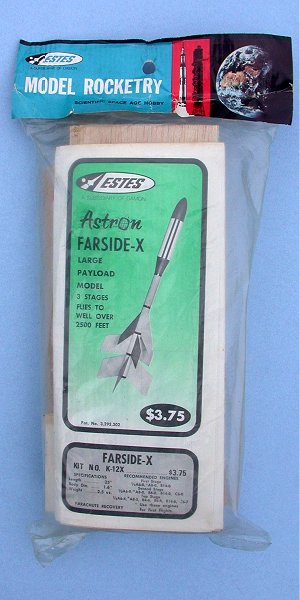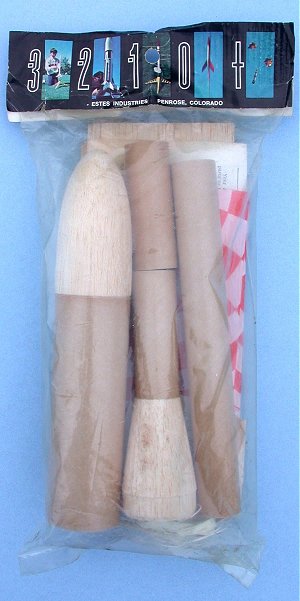 Images by Gerry Fortin
Designer: Bill Simon
Production Years: 1970
Retail Pricing Range: $3.75
Rarity: Very Rare
Description: 1970 was the transition year to Damon ownership with the countdown hang tag and new Estes log with "A Subsidiary of Damon" subtitle. The Farside-X kit price is increased from $3.00 to $3.75 and a new green two panel facecard is printed. The facecard is standard two panel with black outline for both rectangular frames. The upper panel has a green background with overlaid Farside-X rocket in grayish tones. The $3.75 pricing is shown in white letters against a black oval background. The lower panel contains the kit name, number and technical information.
I consider the Farside-X kit version with countdown hang tag to be very rare. Only one appearance were noted on eBay during the 2008-2011 timeframe. Furthermore, checking YORF's Mojo1986 historical database revealed an additional appearance during 2005. If you are a kit collector, then a Farside-X with countdown hang tag will provide to be very challenging to locate.
The Farside and Farside X were 3 stage ultra high altitude workhorse rocket of the Estes fleet. Estes rated the kit as skill level 3 and for the experienced rocketeer. Flight up to 2500 feet were claimed in the Estes catalog. The Farside was part of a two model offering whereby the Farside was configured as a standard payload model and the Farside-X featured a larger payload section for experimental work.
Additional information can be found at the following links;
JimZ Kit Plan Link: Estes K12x
Essense Model Rocket Reviews: OOP K12X Farside-X
Specifications: Length: 25.0", Diameter: 1.637", Weight: 2.5 oz.
Recommended 18 mm Engines: First Stage: 1/2A6-0, A8-0, B14-0 Second Stage: 1/2A6-0, A8-0, B6-0, B14-0, C6-0, Third Stage: 1/2A6-4, A8-5, B4-6, B6-6, B14-6, C6-7
Estes Catalog Artwork