Astron Farside-X
Kit# K-12X
Yellow Double Oval Hang Tag - Damon Era
Green Two Panel Facecard without Price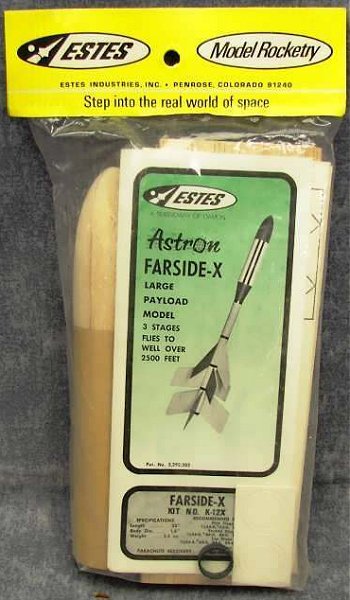 Images from eBay
Designer: Bill Simon
Production Years: 1971
Retail Pricing Range: $3.75
Rarity: Very Rare
Description: 1971 was the final Estes catalog year for the Farside-X after being first offered during 1964. Again in 1971, the green two panel facecard is paired with a Damon yellow double oval hang tag. The facecard is standard two panel with black outline for both rectangular frames. The upper panel has a green background with overlaid Farside-X rocket in grayish tones. There is no pricing oval in the upper panel for this last kit version. The lower panel contains the kit name, number and technical information.
I consider the last Farside-X kit version with yellow double oval hang tag to be moderately rare. Inspecting YORF Mojo1986's historical database revealed four eBay appearances during 2005 and one additional appearance during 2009. However, a collector must check if the green two panel facecard exhibits the $3.75 pricing or is without a pricing oval when deciding kit premium. I consider the kit version without the pricing oval to be much more difficult to locate than the version with the $3.75 pricing oval. Please see the facecard differences below.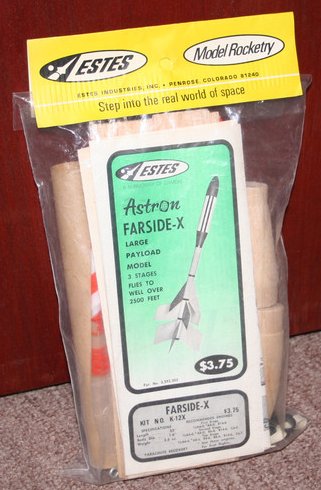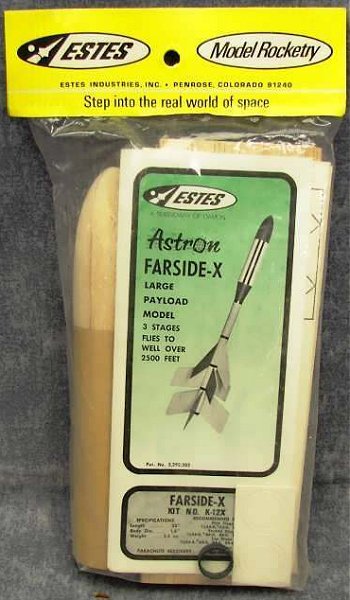 The Farside and Farside X were 3 stage ultra high altitude workhorse rocket of the Estes fleet. Estes rated the kit as skill level 3 and for the experienced rocketeer. Flight up to 2500 feet were claimed in the Estes catalog. The Farside was part of a two model offering whereby the Farside was configured as a standard payload model and the Farside-X featured a larger payload section for experimental work.
Additional information can be found at the following links;
JimZ Kit Plan Link: Estes K12x
Essense Model Rocket Reviews: OOP K12X Farside-X
Specifications: Length: 25.0", Diameter: 1.637", Weight: 2.5 oz.
Recommended 18 mm Engines: First Stage: 1/2A6-0, A8-0, B14-0 Second Stage: 1/2A6-0, A8-0, B6-0, B14-0, C6-0, Third Stage: 1/2A6-4, A8-5, B4-6, B6-6, B14-6, C6-7
Estes Catalog Artwork