Astron Falcon
Kit# K-13
1970-1971 Yellow Paper Hang Tag
Facecard with $1.00 Pricing
Damon Era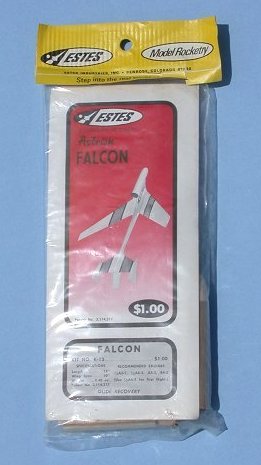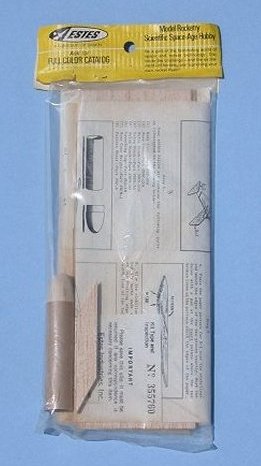 Images by Gerry Fortin
Designer: Larry Renger
Production Years: 1970-1971
Retail Pricing Range: $1.00
Rarity: Rare
Description: Vertical Image; Damon Era Astron Falcon from early 1970s. Red and white facecard with typical black framing of overlaid kit image and separately, the kit number and specifications. A pre-printed price of "$1.00" in black oval completes the facecard. At this point in time, the facecard and instructions sheets are separate. Yellow solid color hangtag with Estes emblem and Subsidiary of Damon underneath. Kits still marked as Astron and used Cat. No. and "K" (Kit No.) numbers.
The Falcon is an exciting front pod boost glider design for competition. It is a skill level 4 kit for the experienced modeling. Estes suggests that recovery glides of up to 1.5 minutes are possible.
Specifications: Length: 12.0", Wing Span: 10.0", Diameter: 0.736", Weight: 0.40 oz.
Recommended 18 mm Engines: 1/4A3-1, 1/2A6-2, A5-2, B4-2
Estes Catalog Artwork