Astron Sprite
Kit# K-15
No Hang Tag - Pre Damon Era
Version 1 Red and Black Letters on White Facecard

Image by YORF Mojo1986
Designer: Gene Street
Production Years: 1964-1965
Retail Pricing Range: $0.75
Rarity: Very Rare
Description: First generation Astron Sprite kit from mid 60's. I believe this kit variety style was produced only during 1964 through 1965. The facecard is part of the instruction sheet. The facecard is illustrated with a black/white rocket image, the name "Astron Sprite" in red letters and a printed "price $.75". Kit number is shown as "Kit No. 641-K-15" and is first version of the red and black letters facecard. Version 2 style used the kit number designation "Kit No. K-15". Below is illustration of Version 1 and 2 style facecards. Please note the different kit numbers in the upper right corner.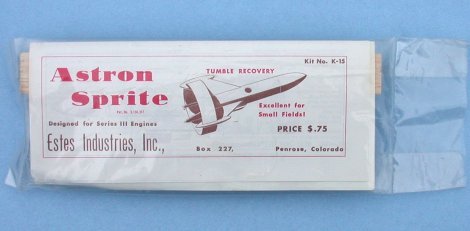 Version 1 Kit No. 641-K-15 Version 2 Kit No. K-15
The K-15 Sprite was designed to fly on Estes short engines.
The kit features a body tube, balsa nose cone, balsa pieces for fins, stabilizer ring, launch lug, and instructions.
Specifications: Length (5.3 in), Weight (0.3 oz), Diameter (0.765 in)
Recommended 13 mm Engines: 1/4A8-2S, 1/2A8-2S, 1/2A8-4S
Estes Catalog Artwork
K-15 Sprite was not listed in the Estes 1964 catalog and Ninfinger Productions does not illustrate a 1965 Estes catalog. Therefore no artwork illustration is available for this listing.