Astron Sprite
Kit# K-15
No Hang Tag - Pre Damon Era
Green and Grey Letters on White Facecard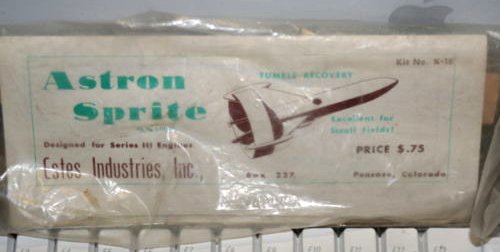 Image fron eBay
Designer: Gene Street
Production Years: 1965-1967
Retail Pricing Range: $0.75
Rarity: Very Rare
Description: This is another pre Damon era Astron Sprite kit variation from the mid 60's. It is believed this kit variety style also was produced during the 1965 through 1967 timeframe as an experiment with different color facecard scheme. Mojo1986 on the Ye Olde Rocket Forum speculates that Estes experimented with this style facecard after the Version 1 red and black letters facecard only to return to the Version 2 style red and black letters facecard afterwards.
The facecard is illustrated with a black/white rocket image, the name "Astron Sprite" in green letters and a printed "price $.75". Kit number is shown as "Kit No. K-15" and matches the second version of the red and black letters facecard.
Below is comparison of green letters facecard with the Version 2 red and black letters facecard. Both facecards use the same kit number in the upper right corner.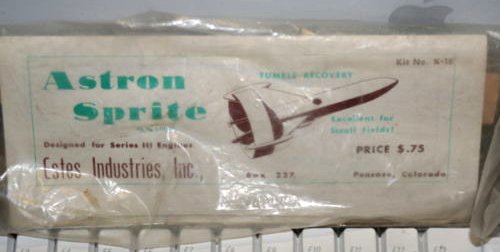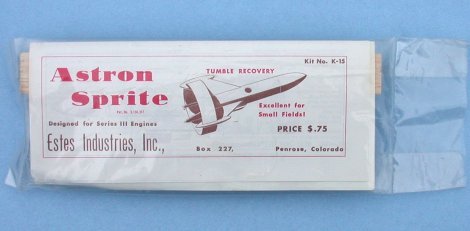 Green/Gray Letters Facecard Version 2 Red/Black Letters Facecard
The K-15 Sprite was designed to fly on Estes short engines.
The kit features a body tube, balsa nose cone, balsa pieces for fins, stabilizer ring, launch lug, and instructions.
Specifications: Length (5.3 in), Weight (0.3 oz), Diameter (0.765 in)
Recommended 13 mm Engines: 1/4A8-2S, 1/2A8-2S, 1/2A8-4S
Estes Catalog Artwork