Astron Scout
Kit# K-1
No Hang Tag - White Facecard with Black and Red Letters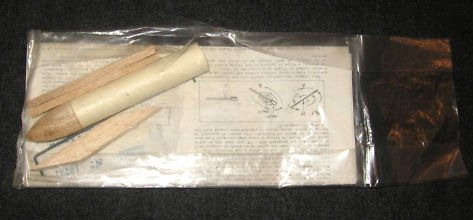 Images from eBay
Designer: Vern Estes
Production Years: Estimate 1964-1967?
Retail Pricing Range: $0.70
Rarity: Very Rare
Description: I believe this is third packaging configuration for the K-1 Scout kit. The instruction sheet is also the facecard. The facecard has a horizontal image of Astron Scout rocket with black and red lettering inside a gussett bag that is sealed. Kit price of "only 70c" is printed on facecard.
The Scout was one of the first kits produced by Estes during earliest days of model rocketry. The Scout is a skill level 1 kit with high altitude performance and a tumble recovery system.
The kit features include a main body tube, balsa nose cone, pre-cut balsa fins, an engine mounting (clip w/gauze material), launch lug and instruction sheet.
Specifications: Length: 7.00", Diameter: 0.765", Weight: 0.28 oz.
Recommended 18 mm Engines: 1/4A8-2, 1/2A8-2, A8-3, B8-4
Estes Catalog Artwork