Astron Scout
Kit# K-1
Red Two Panel Facecard
Countdown Hang Tag - Damon Era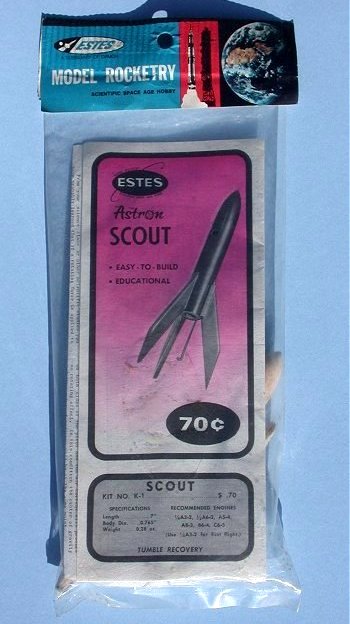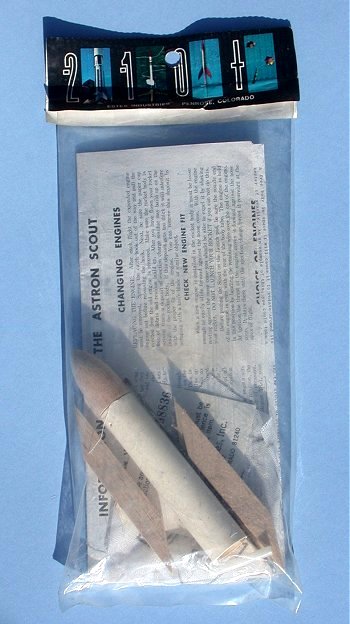 Images by Gerry Fortin
Designer: Vern Estes
Production Years: Estimate 1970-1971
Retail Pricing Range: $0.70-$2.95
Rarity: Rare
Description: Vertical Image: Damon era Astron Scout model rocket kit labeled as K-1 and packaged with two panel facecard and countdown hang tag. The two panel facecard is consistent with the standard Estes approach for kit illustrations. The upper panel has red background with gray Scout rocket overlaid along with pricing "70c" in black oval and Estes logo and kit name, all in black letters. The lower panel in gray color lists the kit specifications and engine recommendations.
The Scout was one of the first kits produced by Estes during earliest days of model rocketry. The Scout is a skill level 1 kit with high altitude performance and a tumble recovery system.
The kit features include a main body tube, balsa nose cone, pre-cut balsa fins, an engine mounting (clip w/gauze material), launch lug and instruction sheet.
Specifications: Length: 7.00", Diameter: 0.765", Weight: 0.30 oz.
Recommended 18 mm Engines: 1/2A6-2, A8-3, A8-5, B4-4, B6-4, C6-5, C6-7
Estes Catalog Artwork