Mars Snooper
Kit# K-20
No Hang Tag, Red and Black Letters
Pre Damon Era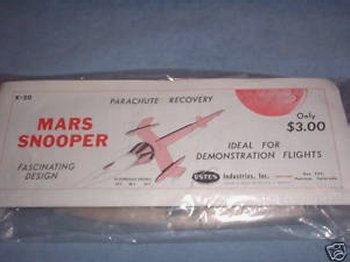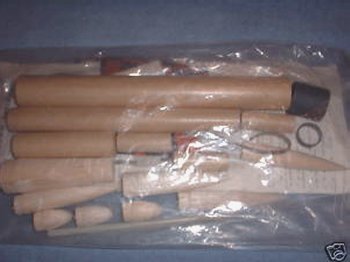 Images from eBay listing
Designer: Gene Street
Production Years: 1965-1967
Retail Pricing Range: $3.00
Rarity: Very Rare
Description: Horizontal Image: pre-Damon Era Mars Snooper with estimated production during 1965-1967 based on matching kit rocket facecard graphics with those in catalogs. The facecard graphics are typical for this era with red and black letters. The Mars Snooper rocket image is illustrated in red and seen flying toward an unknown planet. Pricing is listed as "Only $3.00" on the facecard. Estes advertised the Mars Snooper as a "Fascinating Design" for demonstration launches.
The kit features two body tubes, seven balsa nose cones of various sizes, two balsa sheets for fins, a balsa adapter, large and small adaptor set, stage coupler, engine mount, launch lug, 18" parachute and instructions.
Additional information can be found at the following links;
JimZ Kit Plan Link: Estes K20
Essense Model Rocket Reviews: K20 Mars Snooper OOP
Specifications: Length (21.7 in), Weight (2.2 oz), Diameter (0.95 in)
Recommended 18 mm Engines: 1/2A8-2, A8-3, B8-4, C6-5 (Note the 1/2A8-2 engine recommendation was discontinued in 1968). Even an A8-3 engine could be considered under powering for a model of this size and weight.
Estes Catalog Artwork