Gemini Titan
Kit# K-21
Semi Scale
No Hang Tag
Pre Damon Era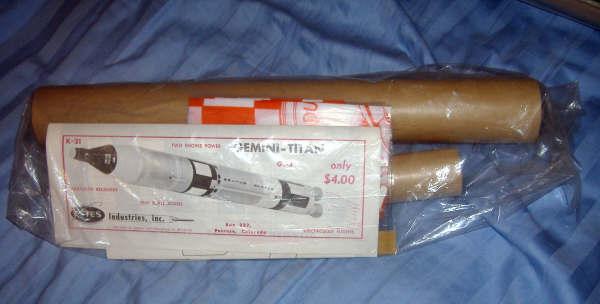 Image courtesy of Jimid123 at Ye Olde Rocket Forum
Designer: Unknown
Production Years: 1965-1967
Retail Pricing Range: $4.00
Rarity: Very Rare
Description: Horizontal Image: pre Damon Era Gemini Titan semi scale model kit packaged with no hang tag and white facecard that is also the instruction sheet. The facecard features a gray/black static Gemini Titan image surrounded by thin red borders and red and black lettering. Pricing of "Only $4.00" is printed in red letters.
The semi scale Gemini Titan kits is rated a skill level 4 kit and uses a two engine cluster for powered flights. Clear plastic fins are included for flights.
The kit features two body tubes, a balsa nose cones, three stage couplers, balsa fin set, three pieces clear plastic fin material, engine mounting system for two engine cluster, 24" plastic parachute, self adhensive strips, launch lug, instructions and TR-6 clustering report.
Additional information can be found at the following links;
JimZ Kit Plan Link: Estes K21
Essense Model Rocket Reviews: PR Rocketry K21 Clone
Specifications: Length (24.4 in), Weight (3.8 oz), Diameter (2.217 in)
Recommended (2x) 18 mm Engines: A8-3, B6-4, C6-5
Estes Catalog Artwork