V-2
Kit# K-22
No Hang Tag, Red and Black Letters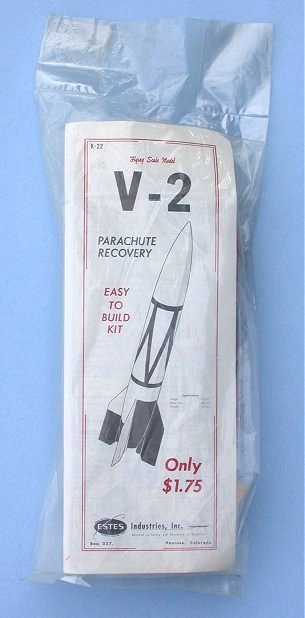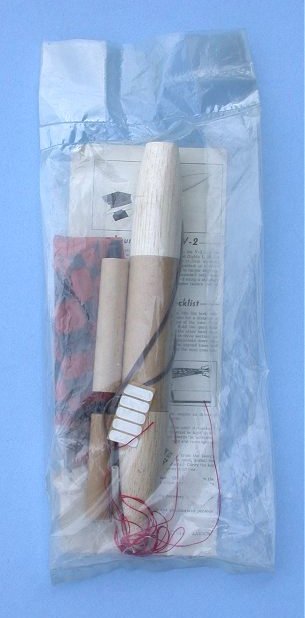 Images by Gerry Fortin
Designer: Vern Estes
Production Years: 1965-1967
Retail Pricing Range: $1.75
Rarity: Rare
Description: Vertical image: pre-Damon Era V-2 from mid 60's; I believe this kit variety with no hang tag was produced from 1965 through 1967. The facecard is also part of the instruction sheet. The facecard is illustrated with a black rocket outlined image over white background, the name "V-2" in black letters and a printed price of "Only $1.75" in red letters.
Estes marketed the V-2 as a high performance scale model of the rocket that started the space age. Since the initial introduction of the V-2, this rocket has become one of the most popular kits on the market with multiple rocket kits companies offering versions powered by engines ranging from 13mm through 38mm. I could not find a specific EMRR page for the early K-22 kit version, so instead listed a link to EMRR V-2 search page results.
The kit features a main body tube, balsa nose cone and tail cone, nose weight, one sheet of balsa stock for fins, engine mounting system, 12" plastic parachute, three launch lugs, and instructions.
Additional information can be found at the following links;
JimZ Kit Plan Link: Estes K22
Essense Model Rocket Reviews: V-2 Search Page
Specifications: Length (11.2 in), Weight (1.4 oz), Diameter (1.325 in)
Recommended 18 mm Engines: 1/2A6-2, A8-3, B3-5, B8-4
Estes Catalog Artwork