Astron Mark
Kit# K-2
No Hang Tag
White Facecard with Blue Letters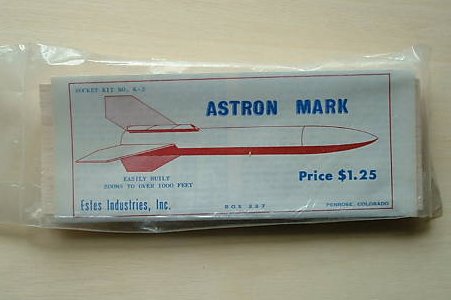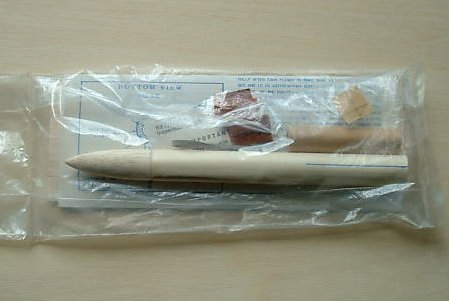 Images from eBay
Designer: G. Harry Stine
Production Years: 1961-1965?
Retail Pricing Range: $1.25
Rarity: Very Rare
Description: Horizontal image: pre-Damon Era Astron MARK from early 60's. White face card/instruction sheet with pre-printed "Price $1.25". Face card is the front of the instructions; kits were marked as Astron and used Cat. No. and "K" (Kit No.) numbers. Features included main body tube (white cardboard w/seam), balsa nose cone, balsa sheet, engine mounting parts, crepe streamer, rubber band shock cord, launch lug, screw eye, pattern sheet and instructions.
A Pre-Damon Astron Mark K-2 Kit without a hang tag is very rare and difficult to locate in any condition. The kit has the seamed white cardboard tube BT-38 (marked for fin position) and a tapered balsa engine block.
Additional information can be found at the following links;
JimZ Kit Plan Link: Estes K-2
Specifications: Length (9.1 in), Weight (0.7 oz), Diameter (0.765 in)
Recommended 18 mm Engines: 1/2A6-2, A5-4, A8-3, B6-4 or C6-5
Estes Catalog Artwork