Little Joe II
Kit# K-30
Scale Model - Transitional Kit
Yellow Hang Tag - Pre Damon Era
Red Two Panel Facecard - Pricing $3.25 - Damon Era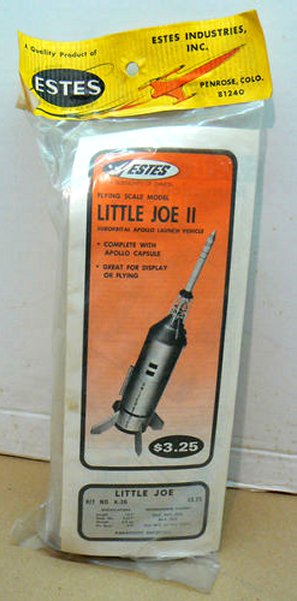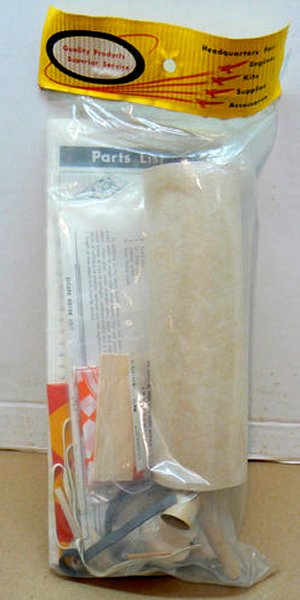 Images from eBay
Designer: Bill Simon
Production Years: 1970
Retail Pricing Range: $3.25
Rarity: Extremely Rare
Description: Estes ownership transition kit whereby pre Damon yellow hang tag is paired with Damon era Little Joe II model rocket red two panel facecard with $3.25 pricing. The facecard is typical for the initial Damon era with black framed borders, reddish orange background with an overlaid Little Joe II rocket in gray color. The name "Little Joe II" is printed in black letters as are the specifications. Pricing is printed on the facecard as "$3.25" in black and white oval. The 1970 Estes catalog illustrates the Little Joe II which includes the wood version Apollo Space Capsule.
The Little Joe II is a 1:70 scale model rocket of NASA's first test launch vehicle for the Apollo program. After powered flight, Estes decided to recover the Apollo scale capsule with a 12" parachute and the main body with separate 24" parachute.
The kit features a main body tube, an Apollo capsule kit, die cut balsa sheet, two adapter rings, two wrap on panels, engine case and block, 24" parachute, a wood dowel, nose cone weight, decal sheet, launch lug, and instructions.
During August 2012, the Little Joe II transitional kit as pictured was auctioned for a substantial final bid of $665 including postage and handling. Three bidders recognized the kit's transitional nature and rarity
Additional information can be found at the following links;
JimZ Kit Plan Link: Estes K-30
Essense Model Rocket Reviews: OOP K30 Little Joe II
Web.mac.com: Little Joe II
Specifications: Length (14.5 in), Weight (2.0 oz), Diameter (2.217 in)
Recommended 18 mm Engines: A5-2, A8-3, B4-2, B6-4, C6-5
Estes Catalog Artwork