Astron Star Blazer
Kit# K-31
1971-1973 Yellow Hang Tag - Damon Era
Version II $1.75 Facecard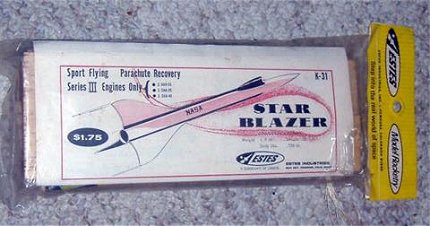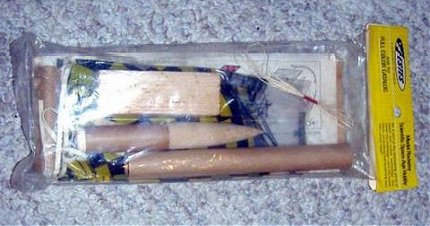 Images courtesy of Jimid123 at Ye Olde Rocket Forum
Designer: Bill See
Production Years: 1968-1973 Catalog Years: 1970-1971
Retail Pricing Range: $1.25 Catalog but $1.75 on Kit Facecard
Rarity: Rare
Description: Horizontal image: Damon era Astron Star Blazer kit with classic yellow double oval hangtag and pricing of $1.75 printed in a black oval on the facecard. Previously, the kit was priced at $1.25 (printed in black letters). The Star Blazer was only listed in Estes 1970 and 1971 catalogs (again priced at $1.25) before Estes redesigned the Star Blazer for its Mini Brute series and re-labeled the kit as TK-31. The Semroc Classic Kit website indicates that the K-31 Astron Star Blazer was produced from 1968 through 1973 and the existence of kits with the post Damon era yellow hangtag suggest that the Star Blazer was available well into 1973 with its 18mm Short Engine propulsion requirements.
The Version II white background facecard is part of the instruction sheet. The Star Blazer rocket is illustrated within a red frame on the facecard. The facecard is marked as K-31 in black letters, features the Damon era Estes logo and has a printed price of " $1.75". Estes marketed the Star Blazer as a sport flyer with Series III engines only.
The Star Blazer design is quite attractive with a convincing space ship look, forward cockpit canopy, structural fairing strips and streamlined fins.
The kit features a two body tubes, a balsa nose cone, two sheets of balsa fin stock, 12" parachute, engine mount, launch lug, and instructions.
Additional information can be found at the following links;
Rocketshoppe.com Plan Link: Estes K31
Essense Model Rocket Reviews: 180% Upscale of K31 Star Blazer
Specifications: Length (12.5 in), Weight (1.0 oz), Diameter (0.736 in)
Recommended 18 mm Short Engines: 1/2A6-2S, A5-2S, A5-4S
Comparison of Star Blazer Version I $1.25 and Version II $1.75 Facecards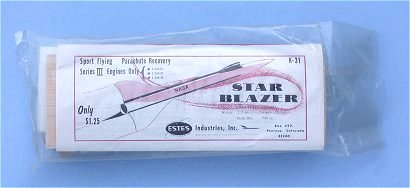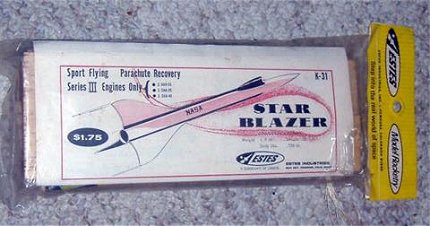 Estes Catalog Artwork