Astron Starlight
Kit# K-32
Countdown Hang Tag
Damon Era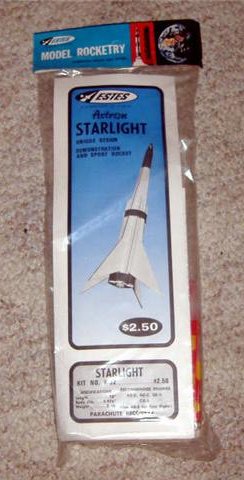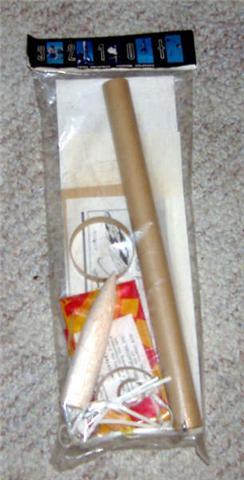 Images courtesy of Jimid123 at Ye Olde Rocket Forum
Designer: Bill See
Production Years: 1970
Retail Pricing Range: $2.35 in catalog and $2.50 on facecard
Rarity: Very Rare
Description: Vertical doubled panel facecard with black borders which is typical of that era. The upper panel has blue background with overlaid grey and black image of the Starlight rocket. All lettering is in black presenting Estes logo, kit name and pricing of $2.50 within black oval. The lower panel is colored a light gray with kit number, specifications and engine recommendations.
The Starlight design was clearly futuristic and marketed as a sport and demonstation flying rocket. The large fin area provided for exceptional stability even during windy conditions.
The kit features a one body tubes, a balsa nose cone, four sheets of balsa fin stock, two tail rings, 18" parachute, engine mount, launch lug, and instructions.
Additional information can be found at the following links;
JimZ Kit Plan Link: Estes K32
Essense Model Rocket Reviews: US Rocket Upscale of K32 Starlight
Specifications: Length (18.0 in), Weight (2.0 oz), Diameter (0.976 in)
Recommended 18 mm Engines: 1/2A6-2, A8-3, B6-4, C6-5
Estes Catalog Artwork