Astron Constellation
Kit# K-35
No Hang Tag, Black and Red Letters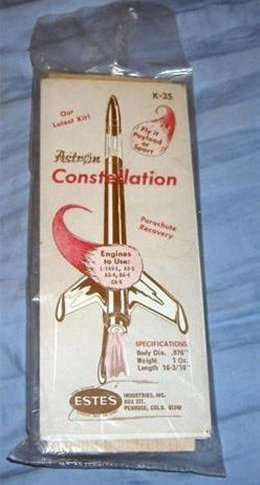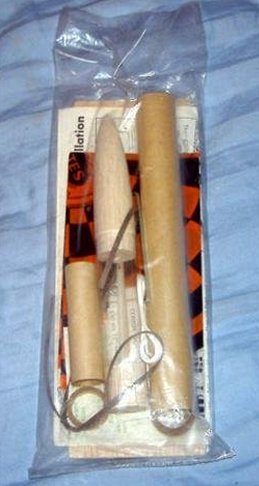 Images courtesy of Jimid123 at Ye Olde Rocket Forum
Designer: Unknown
Production Years: 1968-1969
Retail Pricing Range: $2.00
Rarity: Very Rare
Description: Vertical image: Pre-Damon Era Astron Constellation first available in the 1969 Estes catalog. The facecard and instruction sheet appear to be separated. The facecard is white background and illustrated with a black outlined Constellation rocket image, the name "Astron Constellation" in black and red letters, K-35 kit number and specification/engine recommendations.
A question concerning the reason for an Estes kit being produced as late as 1969 with no hang tag was placed on the Ye Olde Rocket Forum for comment. Two excellent responses were as follows;
Roy - I had a Constellation in early fall '68, as it was offered as a premium kit ("free with $xx order"). It was the fourth or fifth kit I ever built. Those kits often had no hang tag. In the first months of hang tag use, they were often reserved for kits that were going to shops (i.e. no sense in wasting hangtags for kits that were going mail-order, as most kits were back then). Therefore you might get kits in the mail that didn't have hangtags, but the same kits would show up in stores (very few in the late 60's) with the generic yellow hangtag.
Mojo1986 - Note that Jimi's kit uses a non-gusseted bag (i.e. does not have side folds). I have seen a few kits over the years that were packaged this way, although they are quite scarce. Mark Mayfield recently sold a Camroc kit on Ebay that was packaged this way. These kits were clearly made up during a transition from no hangtag, gusset bag kits (1968 and prior) to non-gusseted bag kits that had the early yellow hangtag (1969 to about 1971?). Obviously, Estes had the non-gusset bag stock ready to go (and ran out of their gusseted bags) before the first shipment of hangtags arrived. So yes, the kit is from 1969, probably made up early that year.

Estes marketed the Astron Constellation as a sleek high performance single stage rocket with visible payload bay.
The kit features a main body tube, balsa nose cone, balsa block, clear payload section, one sheet of balsa fin stock, 12" parachute, engine mount, launch lug, and instructions.
Additional information can be found at the following links;
JimZ Kit Plan Link: Estes K35
Essense Model Rocket Reviews: Semroc Constellation Clone Kit Review
Specifications: Length (16.2 in), Weight (1.0 oz), Body and Payload Diameters (0.976 in)
Recommended 18 mm Engines: 1/2A6-2, A8-3, A5-4, B6-4, C6-5
Estes Catalog Artwork