Astron Avenger
Kit# K-38
Yellow Hang Tag
Pre Damon Era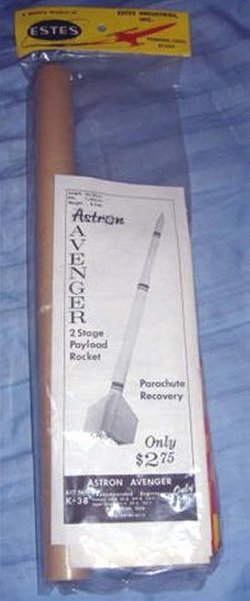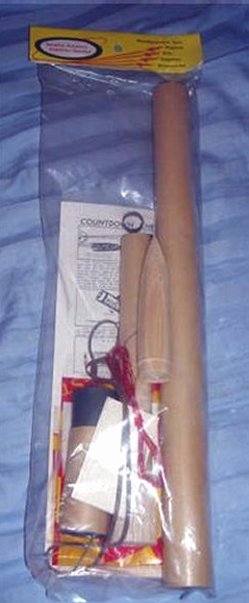 Images courtesy of Jimid123 at Ye Olde Rocket Forum
Designer: Bill Simon
Production Years: 1969
Retail Pricing Range: $2.75
Rarity: Rare
Description: Vertical Image: pre-Damon era Astron Avenger rocket kit with yellow pre Damon hang tag and white facecard. A gray image of the Avenger rocket is the main facecard element surrounded by black lettering that features price of "Only $2.75" and rocket's name. At the bottom of the facecard is a black box with white lettering for kit specifications and engine recommendations.
The Avenger is a two stage design with sleek lines typical of a sounding rocket. The kit is capable of high altitudes for sport or demonstration flying.
The kit features three body tubes, a balsa nose cone, a balsa adapter, two sheets balsa fin stock, two stage engine mounting system, 18" plastic parachute, launch lug, staging technical report and instructions.
Additional information can be found at the following links;
JimZ Kit Plan Link: Estes K38
Specifications: Length (32.0 in), Weight (2.7 oz), Diameter (1.325 in)
Recommended 18 mm Engines
Upper Stage: A5-4, B6-6, C6-7
Booster: A8-0, B6-0, B14-0, C6-0
Estes Catalog Artwork