Astron Ranger
Kit# K-6
Yellow Hang Tag - Pre Damon Era
Black, Red Letters on White Facecard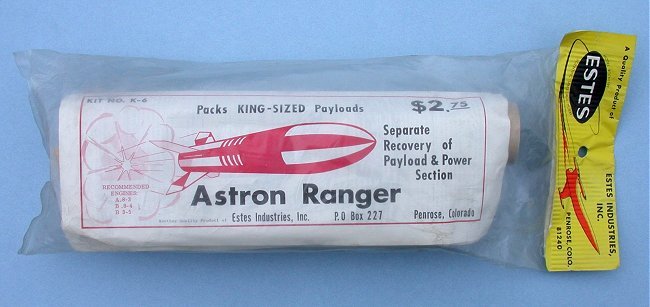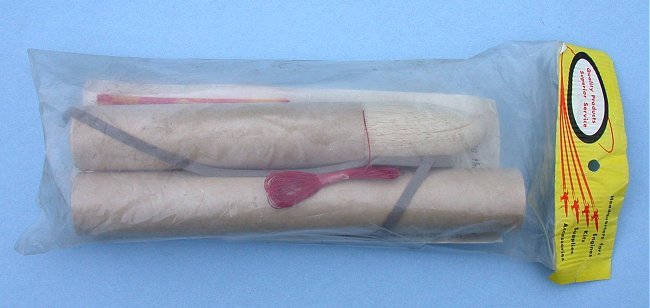 Images by Gerry Fortin
Designer: Vern Estes
Production Year: 1968-1968 estimated
Retail Pricing: $2.75
Rarity: Very Rare
Description: Horizontal Image; pre-Damon Era Astron Ranger estimated to be from 1968 with white facecard that is also part of the instructions. The facecard artwork is primary done in black and red with a red Ranger rocket graphic with a trailing cloud. The Astron RANGER name is highlighted in black along with pricing ($2.75), kit number and Estes logo.
The Ranger is a clustered rocket with three 18mm engines required. The kit was marketed by Estes as a workhorse payload rocket for experimentation with ability to lift up to 3.5 ounces to high altitudes.
The Ranger kit includes two body tubes, a balsa nose cone, balsa nose block, two sheets of balsa fin stock, engine mount systems, two 18" parachutes, launch lug, TR-6 clustering report, and instructions.
Additional information can be found at the following links;
JimZ Kit Plan Link: Estes K6
Essense Model Rocket Reviews: OOP Estes Ranger
Specifications: Length: 24.0", Diameter: 1.637", Weight: 3.4 oz.
Recommended (3X) 18 mm Engines: A8-3, B6-4, C6-5
Estes Catalog Artwork