Astron Ranger
Kit# K-6
Yellow Double Oval Hang Tag
Damon Era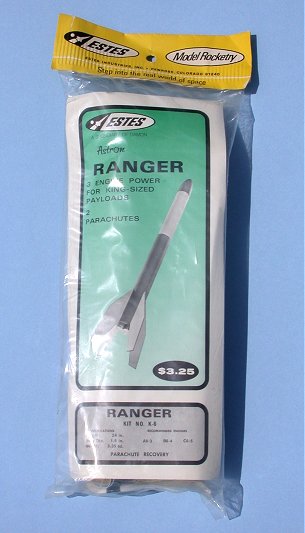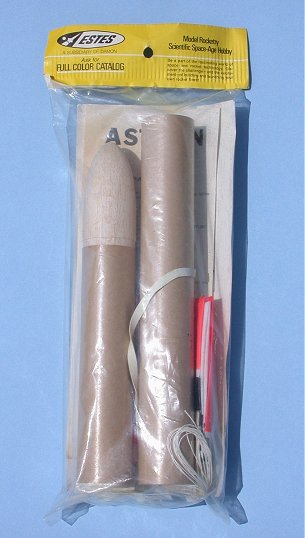 Images by Gerry Fortin
Designer: Vern Estes
Production Year: 1971 based on Yellow Hang Tag
Retail Pricing: $3.25
Rarity: Scarce
Description: Vertical Image; Damon Era Astron Ranger from 1971 with typical double panel facecard framed by black borders. In the upper panel, the Ranger rocket is overlaid on a light green background. Pricing is marked on facecard as $3.25 within black oval. The lower panel provides kit specifications and engine recommendations. Interestingly, the 1971 Estes catalog lists the Astron Ranger pricing as $3.00. Yellow double oval hangtag with Estes emblem and Subsidiary of Damon underneath. Kits still marked as Astron and used Cat. No. and "K" (Kit No.) numbers.
The Ranger is a clustered rocket with three 18mm engines required. The kit was marketed by Estes as a workhorse payload rocket for experimentation.
During 2009, a small hoard of five kits with yellow double oval hang tag was released systematically on eBay therefore increasing short term availability.
Additional information can be found at the following links;
JimZ Kit Plan Link: Estes K6
Essense Model Rocket Reviews: OOP Estes Ranger
Specifications: Length: 24.0", Diameter: 1.637", Weight: 3.4 oz.
Recommended (3X) 18 mm Engines: A8-3, B6-4, C6-5
Estes Catalog Artwork