Mini Brute - Midget
Kit# TK-40
Pink and White Facecard
Pink Skill Level Paper Hang Tag - $1.25 in Pricing Oval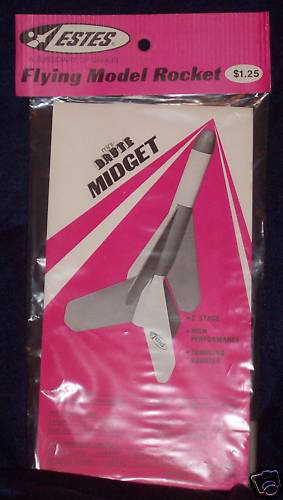 Designer: Bill Simon
Production Years: 1972-1973
Retail Pricing Range: $1.25
Rarity: Rare
Description: Estes Mini Brute Midget model rocket kit #TK40 was produced only from 1972 through 1973 with pink skill level hang tag and pink and white colored facecard. The pink hang tag also features $1.25 pricing pre printed in the white pricing oval.
The Midget is a two stage powered high performance sport skill level 2 rocket design to secure maximum altitude from 13mm engines. The rocket uses 10" parachute recovery after flights up to 600 feet.
The kit features a single body tube to be cut into booster and upper stages, a balsa nose cone, balsa fin stock and pattern sheets, BT5 engine mount tubes and centering rings, a 10 inch parachute, launch lug and instruction sheet.
Additional information can be found at the following link;
JimZ Rocket Plan Link: Estes TK40
Specifications: Length: 8.6 in, Diameter: 0.736 in, Weight: 0.4 oz.
Recommended 13 mm Engines Booster Stage: 1/2A3-0T, A3-0T
Recommended 13 mm Engines Upper Stage: 1/4A3-2T, 1/2A3-4T, A3-6T
Estes Catalog Artwork