Major Design Groups
The Liberty Seated Dime series is composed of eight significant design changes or groups. While some of the design changes are major and very obvious to collectors, others are subtle in nature and require careful examination. Examples of all eight design groups are illustrated followed by brief descriptions. This design group nomenclature will be referenced throughout the book.
No Stars
Sully-Gobrecht Liberty Seated Design
1837-1838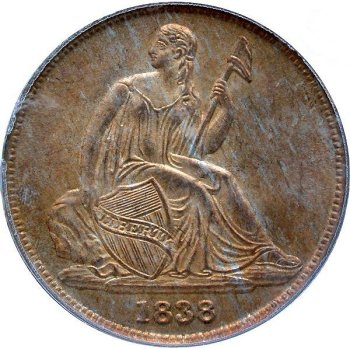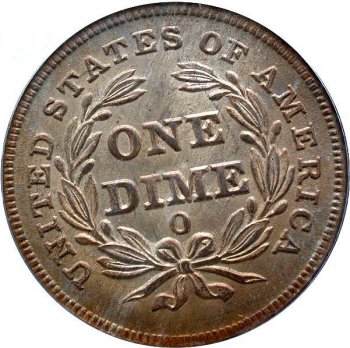 The obverse shows the Christian Gobrecht rendering of the Thomas Sully design, while the reverse has a wreath with ONE DIME, thin long leaves with long stemmed closed berries and the legend UNITED STATES OF AMERICA. All design elements except the date were hubbed into the master die, a technological breakthrough for the time period. First coinage of this group was 30 brilliant proofs struck on June 30, 1837 at the direction of Mint Director, Robert Patterson.
Stars Obverse - No Drapery
Gobrecht Liberty Seated Design
1838 - 1840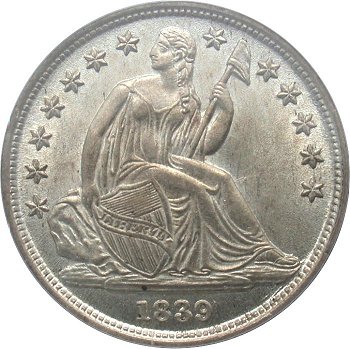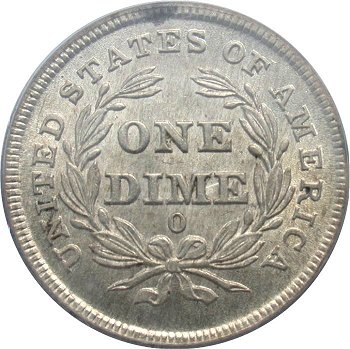 Working dies of 1838 through 1840 were created from the No Stars hub of 1837. Each working die had 13 individual stars hand punched resulting in variations in star placement and size. One obverse in 1838 features smaller stars from a punch intended for half dimes. The Stars Obverse type was struck at the Philadelphia and New Orleans mints.
Stars Obverse - With Drapery
Hughes-Gobrecht Liberty Seated Design
1840 - 1860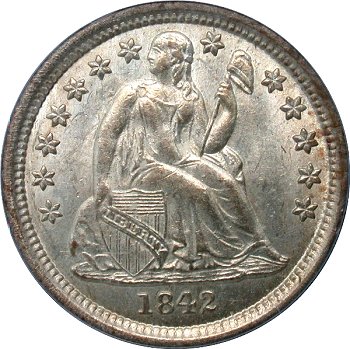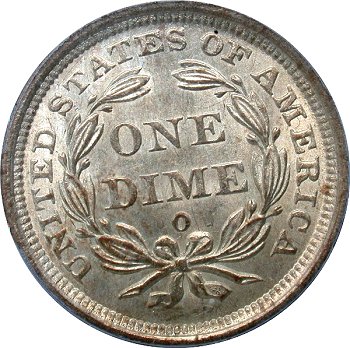 A modified Hughes effigy of Liberty occurred in late 1840. This new portrait presents Liberty with an upright shield and broader body covered by flowing drapery. Additional fabric was added beneath Liberty's exposed right arm. The addition of the bulla to weigh down the drapery presents an important sighting point for variety attribution. Reverse modifications, though subtle, include larger denomination letters and open buds in the wreath.
Stars Obverse - Arrows at Date
1853 - 1855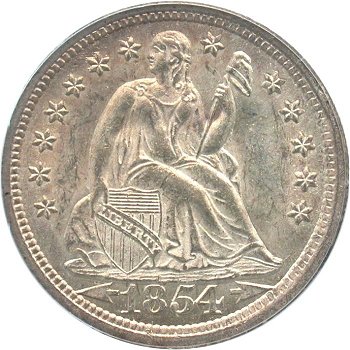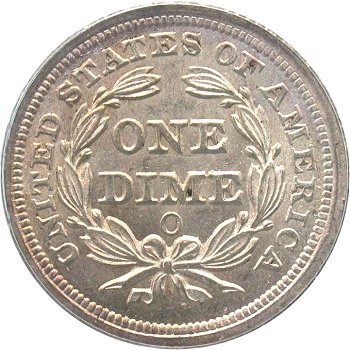 Mint Act of February 21, 1853 reduced the weight of the dime from 2.673 to 2.48 grams. Weight reduction was a reaction to elevated price of silver with respect to gold during the California Gold Rush. Arrows at date were selected to distinguish older standard dimes from the new lighter coins. Arrows remained in use through 1855. The Arrows At Date variety was produced at the Philadelphia mint from 1853 through 1855 and in New Orleans in 1853 and 1854.
Legend Obverse - Type I
Longacre-Paquet Liberty Seated Design
Longacre "Wreath of Cereal" Reverse - Type I
1860 - 1861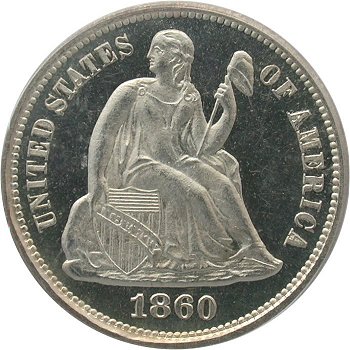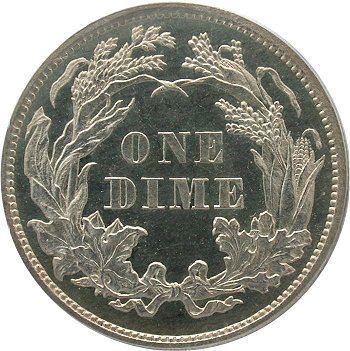 The obverse stars of the Hughes design were replaced by the statutory legend of UNITED STATES OF AMERICA by Longacre. The initial Type 1 obverse exhibited 5 vertical lines above LIBERTY in shield. "Newlin's Wreath of Cereal" reverse was composed of cotton, tobacco, sugar cane, corn, wheat and oak leaves enclosing the denomination of ONE DIME. This reverse is also designate as a Type I due to a future design modification in 1876. A Type I reverse is easily identification by a left ribbon end with two points. The E in ONE is close to the wreath.
Legend Obverse - Type II
1861 - 1873
1875 -1878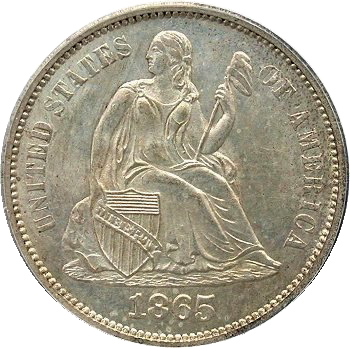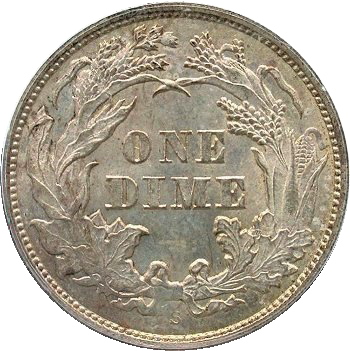 To improve striking quality, Longacre modified the 1860 obverse hub. The results were 6 vertical lines above LIBERTY in the shield and a more slender appearance of LIBERTY. Reverse remains Type I through 1878.
Legend Obverse - Arrows at Date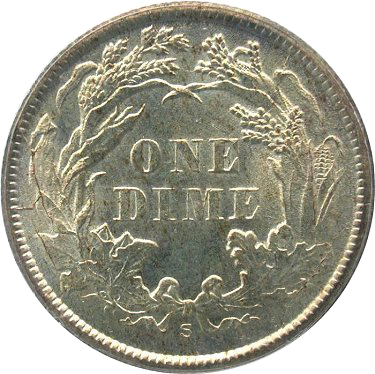 Arrows are added via hand punch to the obverse dies to designate the shift to a metric weight of 2.5 grams per the Mint Act of February 12, 1873. The planchet weight shift was within manufacturing tolerances of the old standard at 2.48 +/- 0.32 grams.
Legend Obverse - Type II
W. Barber "Wreath of Cereal" Reverse - Type II
1876 - 1891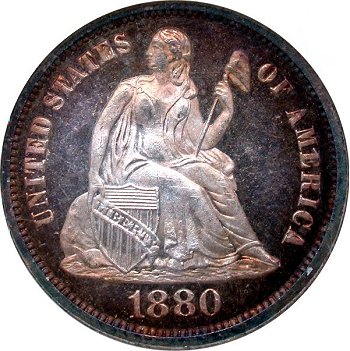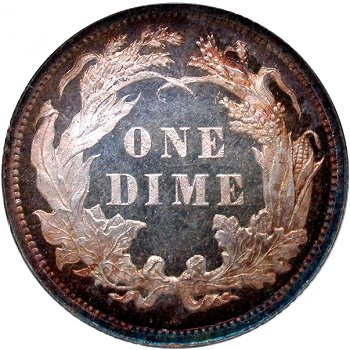 William Barber modified reverse design in 1876. New design has a single point left ribbon end while the E in ONE is farther away from the wreath. During 1876 through 1878, Type I and II reverse dies were used simultaneously except in 1877 at the San Francisco mint. No examples of 1877-S dimes with a Type I reverse have been seen.