1851-O
Variety 101a
Obverse 1 : Missing Star 7, High Level Date
Reverse A : Large O, [mm Rt,H]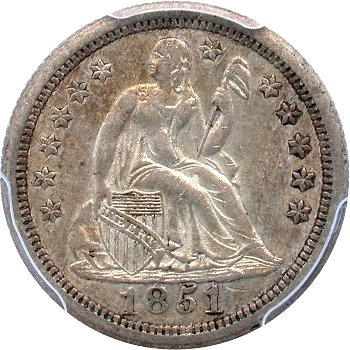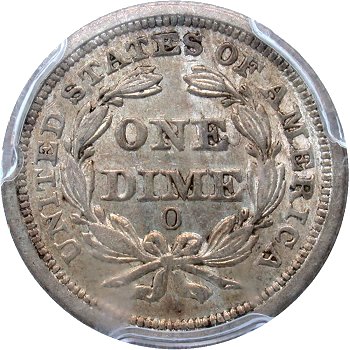 Obverse 1 Reverse A
Comparison of Missing Star 7 F-101a with F-101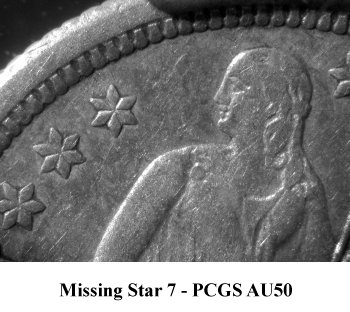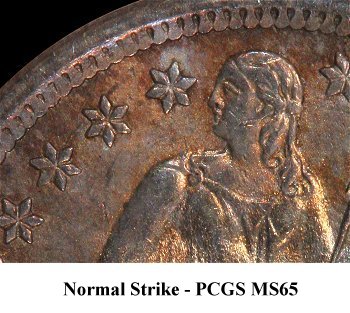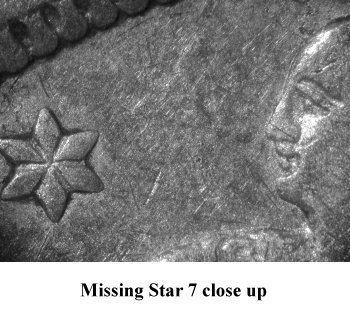 Comments: During late July 2015, Ken Rubin contacted the author concerning an 1851 New Orleans dime purchased in PCGS AU50 with completely missing Star 7. His concern was that a Chinese counterfeit might be at hand a no 1851-O dimes were known with a missing Star 7. The coin in question was shipped for study. Inspection clearly indicated the Seated dime in question was genuine. The missing Star 7 was the result of a minting error; most likely a greased filled die for a short period of time. The fact that Star 6 and Liberty's facial details are not disturbed is amazing. The foreign material that filled the Star 7 crevice on the die was localized leaving only a faint impression of the star at top most point.
Though the missing Star 7 event is technically an minting error, it is no different that reverse die rotations events and is assigned its own webpage and die suffix for publication purposes.
A second example was reported in August by Ken Rubin after posting his discovery on the LSCC message board. This example is owned by Tom Smith in Long Island, NY.
Plate Coin: Courtesy Ken Rubin Collection, PCGS AU50