Solar Sailer
Kit# 1297
Version 1 Rainbow Hang Tag - Large Letters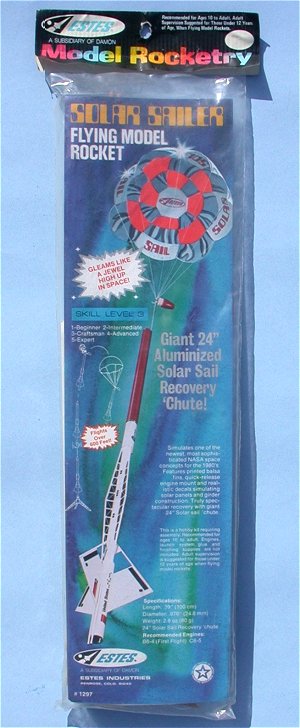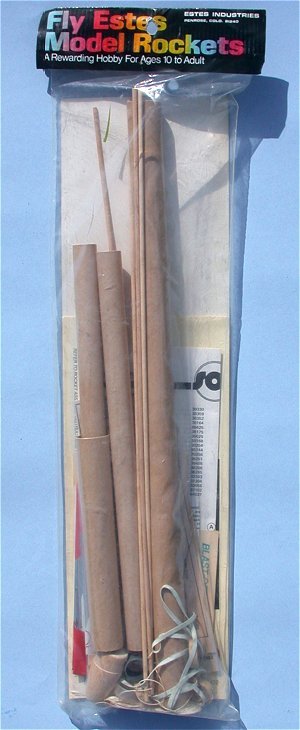 Images by Gerry Fortin
Designers: Unknown
Production Years: 1978-1980
Retail Pricing Range: $6.00-$8.00
Rarity: Scarce
Description: The Solar Sailer kit was first released in 1978 and offered again in the 1979 and 1980 Estes catalogs. This is a skill level 3 kit. The kit as illustrated above is packaged with a Version 1 rainbow hang tag (large letters) and colorful facecard with overlaid Solar Sailer rocket with deployed 24 inch aluminized parachute. The facecard background is typical for the late 1970s exotic designs with multi color blues and greens. The classic Estes rocket launch flight sequence is also illustrated.
Kit Contents: The Solar Sailer kit contains numerous parts including balsa nose cone, four body tubes, two printed balsa sheet, pattern sheets, four wood dowels, adapter rings, 18mm engine mount, a special 24" parachutes, two launch lugs, decal sheet and instructions.
Availability: The Solar Sailer kit is considered to be scarce but can be located on eBay with much patience. Finding a nice original kit with fully intact rainbow hang tag will be the challenge. The rainbow hang tag paper is very thin and overall poor quality and becomes brittle with age. If a collector is motivated, continued searching might be considered for potentially locating Solar Sailer kits with Version 2 or Version 3 large letters rainbow hang tags.
Additional information can be found at the following links;
Ye Olde Rocket Plan Link: Estes 1297
Specifications: Length 39.0", Weight 2.8 oz, Diameter 0.976"
Recommended 18 mm Engine: B6-4, C6-5
Estes Catalog Artwork