Starship Vega
Kit# 1320
Black Paper Hang Tag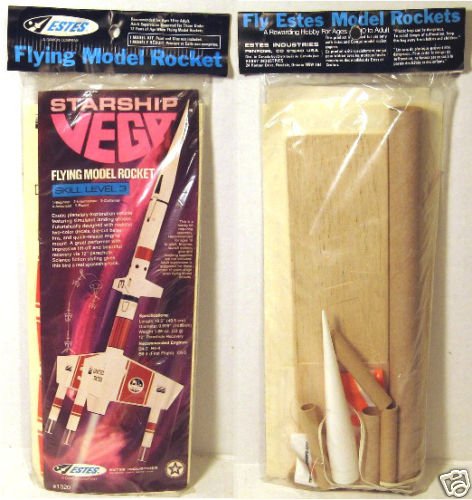 Images from eBay
Designer: Bruce Paton
Production Years: 1982-1983
Retail Pricing Range: $7.25-$8.75
Rarity: Very Scarce
Description: Estes originally launched the Starship Vega model rocket kit during 1973 with availability only during 1973 and 1974. The Starship Vega was re-released in the 1979 catalog with same graphics and specifications as the 1973 model. The 1979 version kit was shipped with a Version 2 rainbow hang tag (large letters) and facecard packaging. The Starship Vega facecard artwork is very well done with a bold Starship Vega rocket and colorful intergallactic background. The facecard still maintains the rocket launch sequence in the background and an obvious skill level 3 kit designation. The rainbow hang tag was probably used until 1981 and then a conversion to the black paper hang tag took place.
The Starship Vega is a skill level 3 exotic design and marketed as a interplanetary exploration vehicle with science fiction styling. Indeed the Starship Vega has been a popular kit and was voted as one of the Top 20 Estes exotic kits on the Ye Olde Rocketry Forum. The Vega is powered with traditional 18mm engines and safely returns with a 12" parachute.
Kit Contents: The kit features a main body tube, plastic nose cone, 18 mm engine mount kit, three landing pod tubes, a landing leg dowel, large and small die cut balsa sheets, a die cut paper card, a multi color decal sheet, 12" parachute, clay balance weight, launch lug and instruction sheet.
Availability: I consider the Starship Vega kit with a black paper hang tag to be very scarce but more available than kits with the rainbow hang tag.
Additional information can be found at the following links;
Jim Z Rocket Plan Link: Estes1320
Specifications: Length: 19.5", Diameter: 0.976", Weight: 1.88 oz.
Recommended 18 mm Engines: A8-3, B4-2, B4-4, B6-2, B6-4, B14-5, C6-5, C6-7
Estes Catalog Artwork