Patrol Cruiser Excaliber
Kit# 1339
Version 2 Rainbow Paper Hang Tag - Large Letters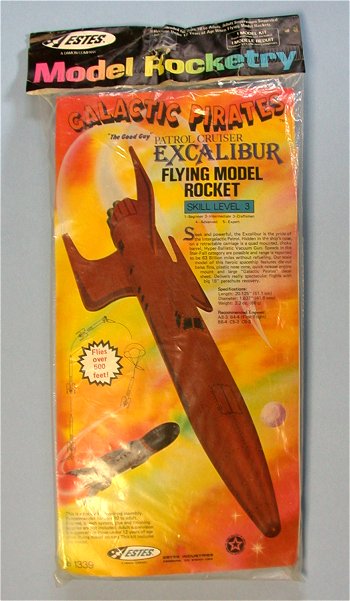 ;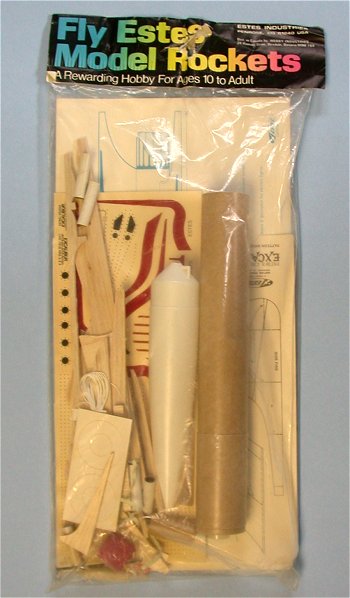 Images by Gerry Fortin
Designer: Keith Niskern
Production Years: 1980-1981
Retail Pricing Range: $7.00-$7.75
Rarity: Scare
Description: Estes Patrol Cruiser Excaliber and Dragon Ship 7 were simultaneously released in the 1980 catalog. The two kits were marketed as "Galatic Pirates" with the Excaliber being the "Good Guys" and the Dragon Ship 7 as the "Bad Guys". Both kits were available for only two years.
The Excaliber rocket kit #1339 was packaged two different hang tags. First is the large letters rainbow paper hang tag followed by the black paper hang tag. Both were paired with yellow, green facecard with overlaid maroon colored Excaliber in the foreground and the Dragon Ship 7 in the background. Most surviving kits will be found with balsa wood detachment due to the kit's weight stressing the thin balsa sheets.
The Excaliber is a skill level 3 kit and challenging to construct. The model uses 18mm engine stuffer type mount surrounded by 9 BT-3 tubes as its main build characteristic along with exotic fin shapes. It is powered with 18mm engines and employs an 18" parachute for safe recovery. The rocket's 2.3 oz weight and 1.637" diameter provides slow and dramatic lift offs but a limited flight height of 500 feet.
Kit Contents: The kit contains a main body tube, tail shroud tube, plastic nose cone, an engine mount rings and tube forming a stuffer engine mount, 9 BT-3 tubes to decorate the engine mount, balsa fin sheet, pattern sheet for balsa fin construction, clay weight, 18' parachute, multi color decal sheet, launch lug and instruction sheet.
Availability: The Excaliber kit can be found on eBay with patience while a clone kit is available for those who wish to build rather than collect classic kits. Please note that locating a high quality original #1339 kit with rainbow hang tag will be much more difficult that for the black paper hang tag due to the poor rainbow hang tag paper quality that easily cracks, curls and flakes with storage time. Estes probably realized this issue when converting to the black paper hang tag which has proven to hold up better with age.
Additional information can be found at the following links;
Jim Z Rocket Plan Link: Estes1339
RocketReviews: Larry Zeilmann's review is worth reading!
Specifications: Length: 20.125", Diameter: 1.637", Weight: 2.3 oz.
Recommended 18 mm Engines: A8-3, B4-4, B6-4, C6-3, C6-5
Estes Catalog Artwork