SKY-HI
Kit# 1365
Black Paper Hang Tag
Pink Facecard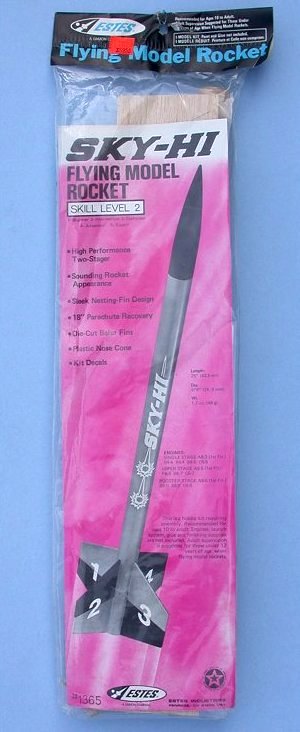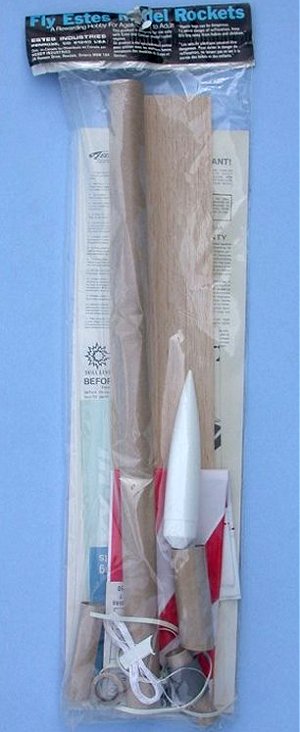 Images by Gerry Fortin
Designers: Unknown
Production Years: 1982-1984
Retail Pricing Range: $4.50-$6.25
Rarity: Scarce
Description: The SKY-HI model rocket kit #1365 was featured in the 1981 through 1984 Estes catalogs. It is assumed that Estes converted to the black paper hang tag during 1982 while maintaining the pink background facecard. The facecard shows a gray SKI-HI rocket inflight over a pinkish red background while the catalog images suggest the two stage rocket to be painted maroon red with black nose cone and alternate black fins. The two stage design probably leads to a skill level 2 rating.
Kit Contents: The Estes SKY-Hi kit contains two body tubes, plastic nose cone, tube coupler, engine mounts for the upper and booster stages, balsa die cut sheet, decal sheet, launch lug, 18" parachute and instruction sheet. Looking at the instruction sheet, the SKY-HI is a typical two stage build type kit.
Availability: In terms of rarity, the SKY-HI kit with a black hang tag is scarce but more available than kits with the skill level hang tag. How much more available is an unknown at this time. During the February 2008 through June 2011 timeframe, I recorded only five problem free SKY-HI kits sold on eBay via normal auction.
Additional information can be found at the following link;
JimZ Kit Plan Link: Estes1365
Specifications: Length: 25.0", Diameter: 9.76", Weight: 1.7 oz.
Recommended 18 mm Engines: Booster Stage: A8-0, B6-0, C6-0, Upper Stage: A8-5, B6-6, C6-7
Single Stage: A8-3, B6-4, C6-5
Estes Catalog Artwork