Star Speeder
Kit# 1366
Version 2 Rainbow Hang Tag - Large Letters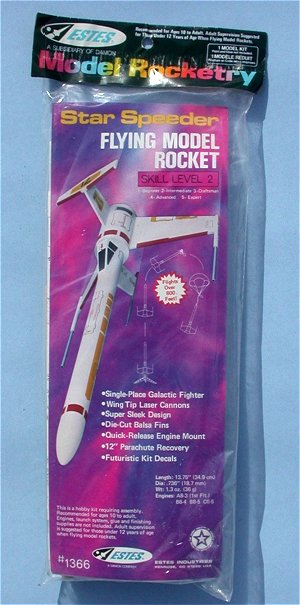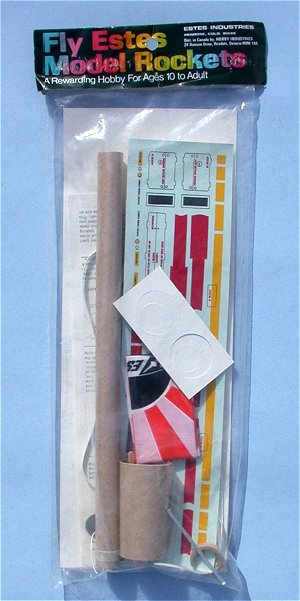 Images by Gerry Fortin
Designers: Unknown
Production Years: 1981-1982
Retail Pricing Range: $4.00-$4.50
Rarity: Rare
Description: The Star Speeder model rocket kit #1366 is a classic Estes exotic design and was first listed in the 1981 catalog and then offered through 1985. It is believed that kits shipped during 1981 and 1982 were packaged with the Version 2 rainbow hang tag (large letters) and a multi color facecard. The facecard shows a white Star Speeder rocket inflight over a pink and purple background. The typical Estes rocket launch sequence artwork is also obvious on the facecard. Kits shipped between 1983 and 1985 will be found with the black paper hang tag and possibly some shipped during 1982.
The Star Speeder is a skill level 2 exotic design and marketed as a galatic fighter with tremendous and agility. Though difficult to locate, the Star Speeder has been a popular kit and was voted as one of the Top 20 Estes exotic kits on the Ye Olde Rocketry Forum. The rocket is powered with traditional 18mm engines and safely returns from a peak altitude of 800 feet with a 12" parachute.
Kit Contents: The Estes Star Speeder kit contains a main body tube and large body tube, balsa nose cone, engine mount, balsa die cut sheet, die cut card, pattern sheet, decal sheet, three launchs lug, wood dowel, 12" parachute, nose cone weight and instruction sheet.
Availability: The Star Speeder kit is rare in today's market and could require one to two years of patient searching on eBay to locate an example. Finding a kit with undamaged rainbow hang tag will add to the challenge as the paper used for the rainbow hang tag is very thin and becomes brittle with age. Alternately, the black paper hang tag quality is much higher and locating nice original kits with a problem free black paper hang tag may be a bit easier.
Why the Star Speeder is such a difficult kit to located is a mystery to the author.
Additional information can be found at the following link;
JimZ Kit Plan Link: Estes1366
Specifications: Length: 13.75", Diameter: 0.736", Weight: 1.3 oz.
Recommended 18 mm Engines: A8-3, B4-4, B6-4, B8-5, C6-5
Estes Catalog Artwork