Alien Explorer
Kit# 1372
Version 2 Rainbow Paper Hang Tag - Large Letters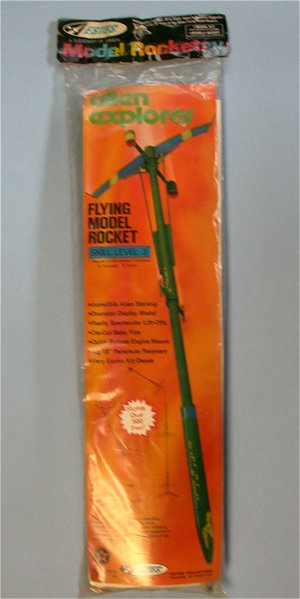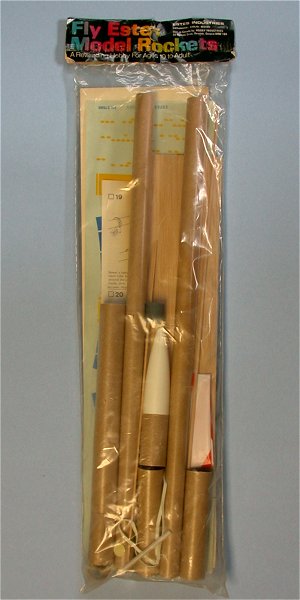 Images by Gerry Fortin
Designer: Unknown
Production Years: 1981-1982
Retail Pricing Range: $7.50
Rarity: Scarce
Description: Estes Alien Explorer model rocket kit #1372 appeared only in the 1981 and 1982 catalogs. The kit utilizes the rainbow hang tag which has the multi color 'Model Rocketry" emblem along with a multi color facecard including green Alien Explorer rocket against an orange/gold background. The rainbow hang tag is Version 2 with large letters while the facecard still illustrates the classic Estes launch sequence.
The Alien Explorer is a skill level 3 kit with a dramatic and futuristic interplanetary voyager design by Estes engineers. It is powered with 18mm engines and employs an 18" parachute for safe recovery.
Kit Contents: The kit contains two main body tubes and parachute compartment tube, plastic nose cone, multiple adapter rings, two die cut balsa sheets, three wood dowels, die cut card sheet, an engine mounting system, multi color decal sheet, launch lug and instruction sheet.
Availability: This is another of the desireable exotic Estes kit from the golden age of rocketry. I consider the Alien Explorer to be scare and definitely a $100-$150 kit when appearing on eBay. Being offered for only two years in Estes catalogs and the difficult skill level probably limited the number of kits sold. The Alien Explorer has always been a sought after kit by the Estes model rocket collecting community and was selected to the Top 20 Exotic Kit list during November 2009 by the Ye Olde Rocket Forum members. Locating problem free kits with undamaged rainbow hang tags will take considerable effort. The rainbow hang tag paper is thin and easily damaged with handling and age.
Additional information can be found at the following links;
JimZ Kit Plan Link: Estes1372
Essense Model Rocket Reviews: PD Rocketry Clone Link
Specifications: Length: 45.0", Diameter: 0.976", Weight: 2.43 oz.
Recommended 18 mm Engines: B6-2, B6-4, B8-5, C6-5
Estes Catalog Artwork