Asteroid Explorer
Kit# 1386
Black Paper Hang Tag
Pink Facecard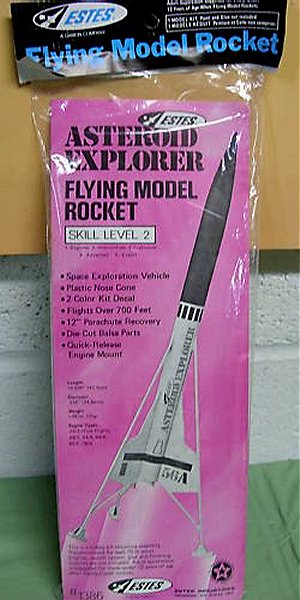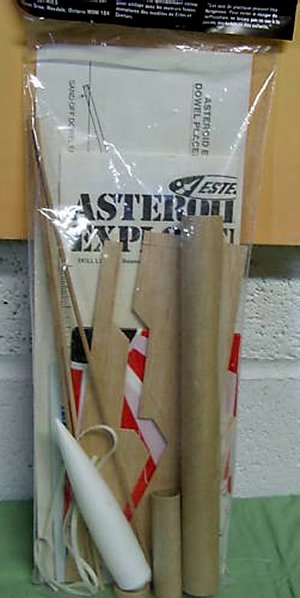 Images from eBay
Designer: Unknown
Production Years: 1983-1984
Retail Pricing Range: $5.00
Rarity: Scarce
Description: Estes Asteroid Explorer model rocket kit #1386 appeared in the Estes 1982 through 1984 catalogs. The second kit packaging scheme used a black paper hang tag designating coupled with a simple uniform darker pink facecard with an overlaid gray and black Asteroid Explorer rocket. This packaging configuration is illustrated above. I am estimating that the second packaging scheme conversion may have occurred during 1983 as the skill level and black hang tag kit versions appear to be equally available.
The Asteroid Explorer is a futuristic design and marketed by Estes as "Geological data gathering probe of the 1990's. Probes asteroids and other large masses for ore samples."
Kit Contents: The kit contains a body tube, plastic nose cone, three wood dowels, die cut balsa sheets, 18mm engine mount, decal sheet, 12" parachute, launch lug and instruction sheet.
Availability: This kit is considered as scarce based on the infrequent number of eBay appearances.
Additional information can be found at the following links;
JimZ Kit Plan Link: Estes1386
Specifications: Length: 16.6", Diameter: 0.976", Weight: 1.09 oz.
Recommended 18 mm Engines: A8-3, B4-4, B6-4, B8-5, C6-5, C6-7
Estes Catalog Artwork