Manta Bomber
Kit# 1928
Black Paper Hang Tag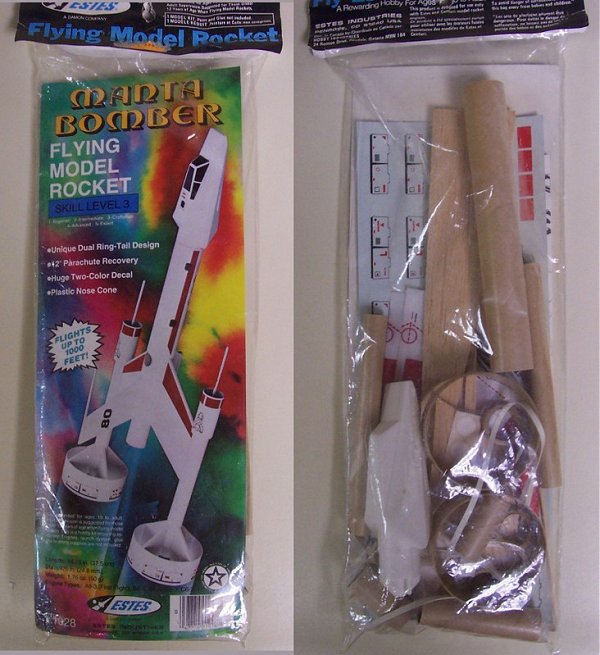 Images from eBay
Designer: Unknown
Production Years: 1984-1985
Retail Pricing Range: $5.95-$6.95
Rarity: Very Scarce to Moderately Rare
Description: The Manta Bomber model rocket kit #1928 was offered only in the Estes 1984 and 1985 catalogs. In my opinion, the Manta Bomber is one of the best Estes futuristic designs. The kit comes with black paper hang tag and a colorful facecard showing the in flight Manta Bomber against a multi color background with blues, reds, yellows and greens that simulation a galatic body. The Manta Bomber is a more challenging skill level 3 kit. Estes describes the Manta Bomber as "Fighter and mainstay of the Ray Galaxy fleet is heavily armed and driven by twin circulating vector engines."
The Manta Bomber model rocket is powered by 18mm engines and Estes estimates that the sport rocket is capable of flights up to 1000 feet. The rocket uses a 12" parachute for safe recovery.
Kit Contents: The kit contains three main body tubes, two additional body tubes to form cannons, special design plastic nose cone, die cut balsa for fins, an engine mount with centering rings, two paper rings to form vector drives, wood dowel, multi color decal sheet, 12" parachute, launch lug and instruction sheet.
Availability: The Manta Bomber is a tough kit to locate and deserves a "moderately rare" rating. Few examples have appeared on eBay during the 2008-2011 tracking period. This is definitely a $100 level kit due to its exotic appearance and infrequent availability.
Additional information can be found at the following links;
JimZ Kit Plan Link: Estes1928
Specifications: Length: 14.75", Diameter: 0.976", Weight: 1.76 oz.
Recommended 18 mm Engines: A8-3, B4-4, B4-4, B6-4, C5-3, C6-3
Estes Catalog Artwork