Astron Beta
Kit# K-45
Yellow Double Oval Hang Tag - Damon Era
Blue Two Panel Facecard with $1.35 Pricing - Damon Era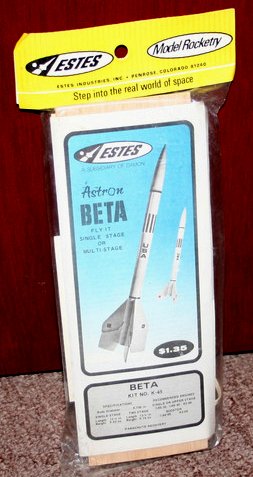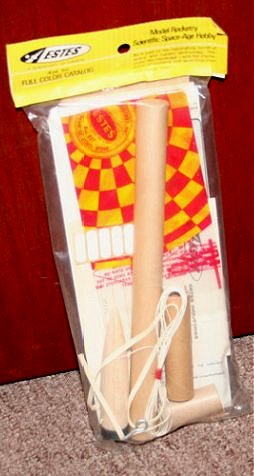 Images from eBay
Designer: Bill Simon
Production Years: 1971
Retail Pricing Range: $1.50 (Catalog), $1.35 (Facecard)
Rarity: Very Scarce
Description: Astron Beta second production year kits are found with yellow double oval Damon hang tag. The facecard is a typical two panel design from Damon era with black borders. The upper panel features a blue to white transition background with Beta two stage and single stage images overlay, Damon era Estes logo and $1.35 in black oval. The Beta employed parachute recovery.
The Astron Beta kit was offered as K-45 in the 1970 and 1971 catalogs. This kit version utilized Series III short engines. Starting in the 1972 catalog, the kit was converted to Mini Brute series with mini "T" engines and labeled as TK-45. The conversion to T engines reduced launch weight over the short 18mm engines. Interestingly, the TK-45 kit was priced at $1.35 in the 1972 catalog. Was an error made during the design and printing of the 1971 K-45 kit facecard due to an anticipated pricing reduction in 1972 for Mini Brute transition?
Kit Contents: The Beta kit contains main and booster body tubes, engine tube, balsa nose cone, balsa fin stock, pattern sheet, 8" parachute, decal sheet and instructions.
Availability: The Beta K-45 kit with double oval yellow hang tag and the blue double panel facecard is considered to be very scarce but more available than the 1970 issue with pre Damon era yellow hang tag. The most recent 1971 version K45 kit transacted on eBay for $126 during June 2012.
Additional information can be found at the following links;
JimZ Kit Plan Link: Estes K45
Specifications: Height: 13.75", Weight: 0.75 oz, Diameter: 0.736"
Recommended Short 18 mm Engines: Booster Stage; 1/2A6-0, A6-0 Upper Stage; 1/2A6-2S, 1/2A6-4S, A5-4S
Estes Catalog Artwork