Mosquito
Kit# TK-1/0801
Black Paper Hang Tag
Version 1 Skill Level Facecard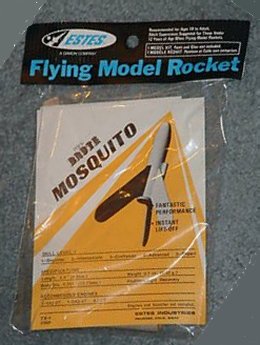 Image from eBay
Designer: Bill Simon
Production Years: Estimate 1980-1993
Retail Pricing Range: $1.75-$2.95
Rarity: Moderately Common
Description: Estes Mini-Brute series Mosquito model rocket kit TK-1 (#0801) was produced in the 1980s with blue and black hang tag and Version1 yellow skill level facecard. The Mosquito is nearly the lightest model rocket in the Estes' fleet powered by 13mm mini engines and part of the Mini Brute series. It is a high performance altitude model rocket with featherweight recovery after engine ejection.
Estes catalogs lists the kit number as #801 while the skill level facecard still carries the TK-1/#801 designation.
Kit Contents: The kit contains a body tube, balsa nose cone, balsa sheet for fins, launch lug and instruction sheet.
Availability: The black paper hang tag kit packaging version is much more available than those with a yellow skill level hang tag though eBay pricing is about the same for both.
Additional information can be found at the following links;
JimZ Kit Plan Link: Estes0801
Essense Model Rocket Reviews: OOP Review Link
Specifications: Length: 3.90", Diameter: 0.541", Weight: 0.10 oz.
Recommended 13 mm Engines: 1/4A3-2T, 1/4A3-4T, 1/2A3-4T, A3-6T, A10-3T
Estes Catalog Artwork