Astron Scout
Kit# K-1/1201
Black Paper Hang Tag
Version 1 Skill Level Facecard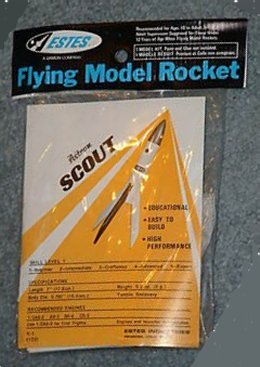 Image from eBay
Designer: Vern Estes
Production Years: Estimate 1980-1985
Retail Pricing Range: $1.85-$2.95
Rarity: Moderately Common
Description: Estes Astron Scout flying model rocket kit labeled as #K-1 / #1201 with estimated production from 1980 through 1985 based on the black paper hang tag type. The kit packaging includes the Estes black paper hang tag and Version 1 yellow skill level facecard. Starting in 1986, the Scout was redesigned and renamed as Scout II and sold as Estes kit #1959.
The Scout was one of the first kits produced by Estes during early days of model rocketry. The Scout is easy to build with high altitude performance and a tumble recovery system.
Kit Contents: The kit contains a main body tube, balsa nose cone, pre-cut balsa fins, an engine mounting (clip w/gauze material), launch lug and instruction sheet.
Specifications: Length: 7.00", Diameter: 0.765", Weight: 0.30 oz.
Recommended 18 mm Engines: 1/2A6-2, A8-3, A8-5, B4-4, B6-4, C6-5, C6-7
Estes Catalog Artwork