Astron Streak
Kit# K-4/1204
Black Paper Hang Tag
Version 1 Skill Level Facecard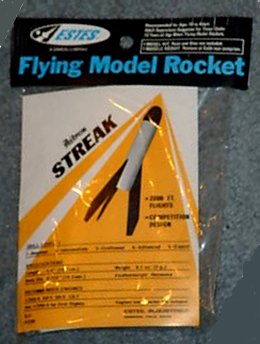 Image from eBay
Designer: Vern Estes
Production Years: Estimate 1980-1987
Retail Pricing Range: $1.75-$2.95
Rarity: Moderately Common
Description: The Estes Astron Streak Flying Model Rocket Kit #K-4/1204 was produced from the early to mid 1980's with yellow skill level facecard and black paper hang tag. Note that the Streak's facecard graphic does not match with the Streak's illustration in the 1980-1987 catalogs. The catalogs show a Streak rocket with black rings at the aft and top fin points while Estes was still using an older skill level facecard design.
The Streak was the fourth kit produced by Estes. It was a competition design with high performance altitudes and a featherweight recovery system.
Kit Contents: The kit contains a main body tube that is clear plastic, a balsa nose cone, balsa fin strips, launch lug, fin alignment guide and instruction sheet.
Availability: This Streak kit packaging configuration is the most frequently encounted on eBay and is estimated to be moderately common.
Specifications: Length: 5.60", Diameter: 0.720", Weight: 0.10 oz.
Recommended 18 mm Engines: 1/2A6-4, A8-5, B4-6, B6-6, C6-5, C6-7
Estes Catalog Artwork