Farside
Kit# 1212
Version 2 Blue Skill Level Hang Tag with Pricing Oval
Version 1 Blue Skill Level Facecard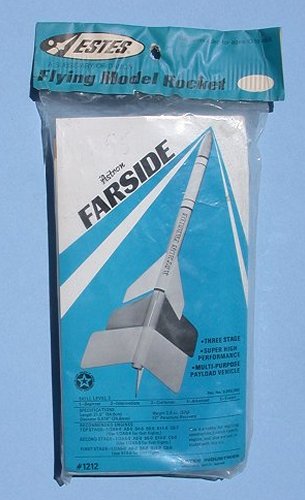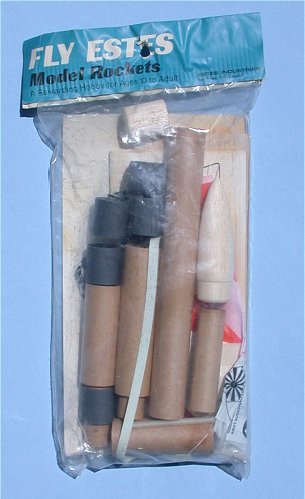 Images by Gerry Fortin
Designer: Bill Simon
Production Years: 1975-1980
Retail Pricing Range: $3.95-$6.50
Rarity: Moderately Scarce
Description: Estes Farside model rocket kit #1212 was produced starting 1975 through 1980. Previously, the Farside was labeled as K-12. The 1975 kit transitioned to the Estes skill level packaging with blue facecard and hang tag. The facecard is blue and white color with overlaid grey static Farside rocket model. Rocket specifications and engine recommendations are found on the lower portion of the facecard.
The Farside is a three stage high performance sport rocket with payload section powered by 18mm engines. Estes assigned a skill level 3 rating. Recovery of payload sustainer is with a 12" parachute.
Kit Contents: The kit contains three body tubes, balsa nose cone, payload section tube, one balsa nose block, four sheets of balsa fin stock, five stage couplers, three stage 18mm engine mounts, 12" parachute, decal sheet, launch lug and instruction sheet.
Availability: Since the Farside #1212 kit spans six production years, the kit can be found with different skill level hang tag designs. The above images illustrate an Apogee II kit with Version 2 skill level hang tag and Version 1 skill level facecard. At this time, no estimate or understanding of rarity for the difference hang tag variations is possible. Overall, it is estimated that the #1212 kit is "moderately scarce" for 1875-1980 production years while certain hang tag designs may be much more difficult to locate and could be eventually rated as "very scare" or "rare". However more analysis is required.
Additional information can be found at the following link;
JimZ Kit Plan Link: Estes 1212
Specifications: Length: 21.5", Diameter: 0.976", Weight: 2.00 oz.
Recommended 18 mm Engines
Booster Stage 1: 1/2A6-0, A8-0, B14-0
Booster Stage 2: 1/2A6-0, A8-0, B6-0, C6-0
Sustainer: 1/4A3-4, 1/2A6-4, A8-5, B4-6, B6-6, B14-7, C6-7
Estes Catalog Artwork