Mini Brute Sprite
Kit# K-15/1215
Version 1 Blue Skill Level Hang Tag
Version 1 Blue Skill Level Facecard with Black K-15/1215 Numbering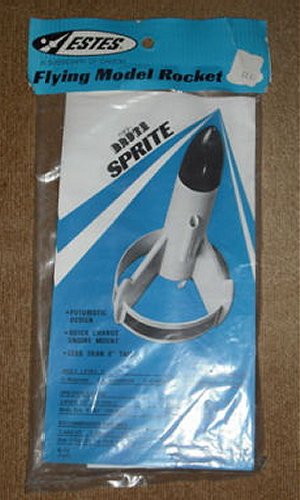 Image fron eBay
Designer: Gene Street
Production Years: 1973
Retail Pricing Range: $0.90
Rarity: Very Scarce to Rare
Description: The final Sprite kit version was offered in the Estes 1973 catalog as a Mini Brute kit and packaged with Version 1 blue skill level hang tag and Version 1 blue skill level facecard. A gray and black Sprite rocket image is overlaid on blue background and surrounded with marketing and technical information. The kit number is shown as K-15/#1215 in the lower left corner of the facecard.
Starting in the 1971 catalog year, the K-15 Astron Sprite was converted from a short engines to the 13mm "T" engines and remarketed as a Mini Brute kit. During the 1973 catalog year, the kit was renamed from "Astron Sprite" to "Sprite".
Kit Contents: The kit contains a body tube, balsa nose cone, balsa pieces for fins, stabilizer ring, launch lug, and instructions.
Availability: Blue skill level Sprite kits are considered to be very scarce and potentially deserving a "rare" rating. This kit version brings a substantial premium on eBay. Be prepared to pay about $200 for a problem free example.
Specifications: Length 5.3", Weight 0.3 oz, Diameter 0.765"
Recommended 13 mm Engines: 1/4A3-2T, 1/2A3-2T, A3-4T
Estes Catalog Artwork