Astron Delta
Kit# K-16/1216
Version 1 Blue Skill Level Hang Tag with $2.25 Pricing
Version 1 Blue Skill Level Facecard with White K-16/1216 Numbering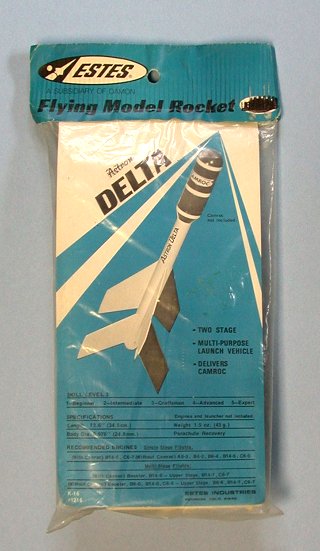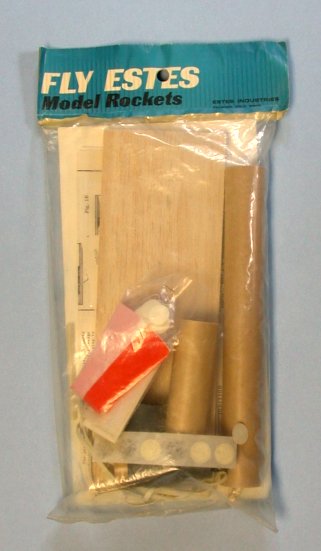 Images by Gerry Fortin
Designer: Unknown
Production Years: 1972-1973
Retail Pricing Range: $2.25
Rarity: Rare
Description: Astron DELTA packaged with Estes blue skill level facecard hang tag. Delta two stage rocket is shown in black and gray colors as lifting vehicle for the CAMROC single shot photography camera. The Version 1 blue skill level hang tag has pricing oval with print price of "$2.25". Kit number is listed as K-16 and 1216 in white letters. Most skill level kits were dual listed with old K kit number and newer 12xx number. Note the Estes patent #3,292,302 for multi staging is not listed on the blue skill level facecard. Rather the facecard indicates that the CAMROC camera is not included.
Kit Contents: The Delta kit contains main and booster body tubes, three stage couplers, three sheets of balsa fin stock, 12" parachute, main and booster engine mounts, launch lug, and instructions.
Availability: I believe the K-16 DELTA skill level kit is quite rare and this rarity is not well appreciated by the kit collecting community. The above kit is the first seen by author since recording eBay sales February 2008 through September 2011. Further research into YORF Mojo1986's historical kit database revealed no entries during a 2004-2007 timeframe. 1972 was the last year that Estes listed the Delta kit in a catalog along with the CAMROC camera. Once the CAMROC became an obsolete item, sales of the Delta lift vehicle decreased quickly. One must wonder how many K-16/1216 skill level kits were produced in 1972 and sold during 1973 or later.
Additional information can be found at the following link;
JimZ Kit Plan Link: Estes K16
Specifications: Length (13.6 in), Weight (1.5 oz), Body Diameter (0.976 in)
Recommended 18 mm Engines: Booster Stage B6-0, B14-0, C6-0 Upper Stage B6-6, B14-7, C6-7
Estes Catalog Artwork