Aerobee 300
Kit# K-17/1217
Scale Model
Version 2 Blue Skill Level Hang Tag
Version 1 Blue Skill Level Facecard with White K-17/1217 Numbering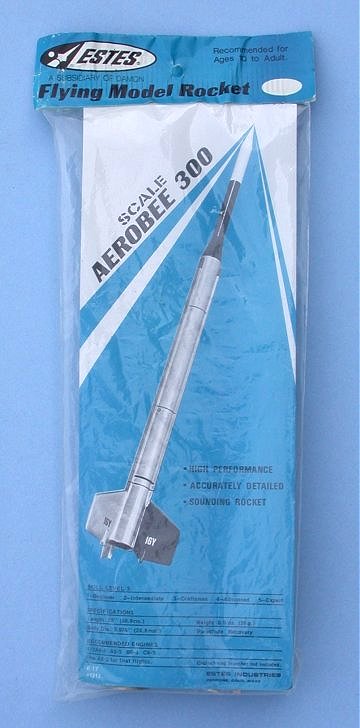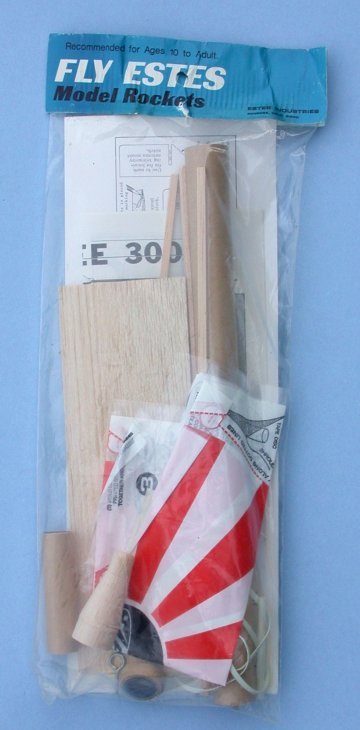 Images by Gerry Fortin
Designers: Unknown
Production Years: 1975-1978
Retail Pricing Range: $2.75-$3.50
Rarity: Scarce
Description: Facecard is Version 1 blue skill level design coupled with a Version 2 blue skill level hang tag. The facecard exhibits a white and blue design with overlaid static Aerobee 300 rocket in white, gray and black colors. The kit name is shown in white letters as is the scale model designation. The lower section of the facecard provides kit numbers, specifications and engine recommendations. More research is necessary to locate kits with usage of Version 3 skill level hang tags during the 1975-1978 timeframe.
The Aerobee 300 is a well detailed scale model of the upper two stages of the vehicle first launched in October 1958. The entire Aerobee 300 rocket was initially boosted by an Aerojet 2.5KS-1800 motor. Actual Aerobee 300 design specifications include length (396 in.), diameter 1st stage (15 in.), diameter 2nd stage (8 in.) and weight (2103 lbs).
Kit Contents: The 1217 kit contains main and upper section body tubes, one balsa nose coin, a balsa adapter, one balsa sheet and three strips balsa stock, 18mm engine mounting system, 12" parachutes, launch lug, decals and instructions.
Availability: An Aerobee 300 kit with skill level packaging is considered to be scarce. Be prepared to pay between $70 to $100 for a nice problem free example on eBay.
Additional information can be found at the following link;
JimZ Kit Plan Link: Estes K-17
Specifications: Length 20.0", Weight 0.85 oz, Diameter 0.975"
Recommended 18 mm Engine: 1/2A6-2, A8-3, B6-4, C6-5
Estes Catalog Artwork