Semi Scale V-2
Kit# K-22/1222
Version 2 Blue Skill Level Hang Tag
Version 1 Blue Skill Level Facecard with White K-22/1222 Numbering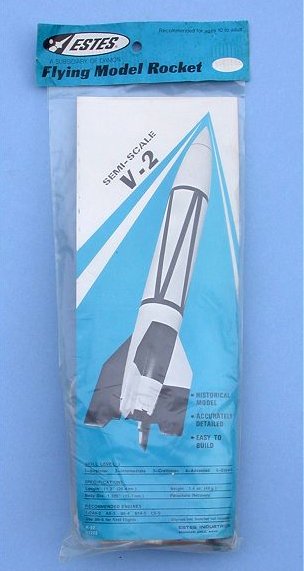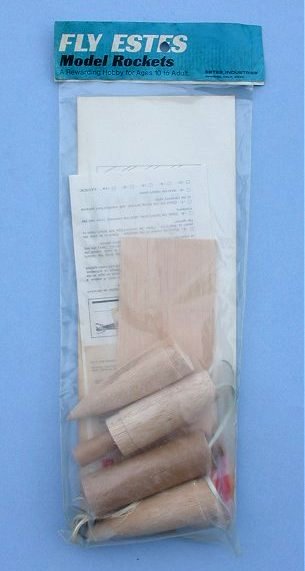 Images by Gerry Fortin
Designer: Unknown
Production Years: 1975-1977
Retail Pricing Range: $3.75-$4.00
Rarity: Moderately Scarce
Description: This listing is for the V-2 semi scale rocket model kit packaged with Version 1 blue skill level facecard and a Version 2 blue skill level hang tag. Kit numbering includes both K-22 and #1222 designations in white at the left bottom of facecard.
Estes marketed this V-2 kit as "1/49th scale" within 1975 through 1977 catalogs while the facecard indicates the kit is 'semi-scale". Catalog kit numbering is #1222 while the Version 1 facecard still lists the dual K-22/#1222 designation.
Kit Contents: The kit contains a main body tube, a balsa nose cone, a balsa tail cone, one nose cone weight, one sheet balsa fin stock, 18mm engine mount, 12" plastic parachute, three launch lugs, and instructions.
Availability: The later skill level V-2 kits are rated as moderately scarce and will appear on eBay occasionally. When located, be prepared to pay about $100 for a nice problem free example.
Additional information can be found at the following link;
JimZ Kit Plan Link: Estes K22
Specifications: Length 11.2", Weight 1.4 oz, Diameter 1.325"
Recommended 18 mm Engines: 1/2A6-2, A8-3, B6-4, B14-5, C6-5
Estes Catalog Artwork