Nike-X
Kit# 1270
Black Paper Hang Tag
Version 1 Pink Skill Level Facecard


Images from eBay
Designers: Wayne Kellner
Production Years: 1981-1984
Retail Pricing Range: $6.25-$8.25
Rarity: Scarce
Description: This Nike-X listing is for the black paper hang tag variety paired with Version 1 pink skill level facecard. Facecard is typical skill level series design with pink color designating a skill level 2 kit. Facecard is pink and white color with overlaid static Nike-X rocket in white, gray and black colors. The kit name is shown with black outlined letters. The lower section of facecard provides kit number, skill level designation as intermediate, kit specifications and engine recommendations.
The Nike-X was available in the 1975 through 1984 Estes catalogs. It is assumed that the transition from a Version 2 or Version 3 pink skill level hang tag to the black paper hang tag for kit packaging occured in 1981.
The Nike-X is a nice single stage scale like surface to air missile model for the intermediate builder. Estes indicates the model is designed after the US Army 4th generation two stage surface to air intercept missile. Some internet research revealed that #1270 Estes kit most resembles the Nike Zeus B LIM-49A as picture below. From the Director of U.S. Military Rockets and Missiles we find,
The Nike Zeus B was a completely new missile, which shared only the guidance method and first stage booster with the Nike Zeus A. Because it was designed to intercept its targets in space, it did not need large manoeuvering fins. Instead the missile featured a special third stage with small control jets to manoeuver in space. The first three-stage flight of a Nike Zeus B occurred in September 1961. In July 1962, a Nike Zeus B succeeded in intercepting an Atlas ICBM nose cone. By the end of 1963, more than a dozen reentry vehicles had been successfully intercepted. Source [1] says that the designation XLIM-49B was allocated to the Nike Zeus B in 1963. However, as said above, official records show that Nike Zeus B was actually the XLIM-49A.
In May 1963, a modified Nike Zeus B missile intercepted an orbiting satellite. From June 1963 until May 1966, a Nike Zeus B with a live nuclear warhead was always on alert at the Kwajalein launch complex for possible interception of Soviet satellites.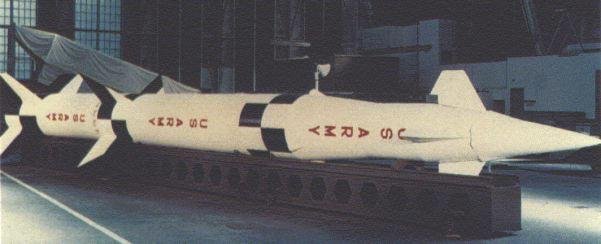 Photo: U.S. Army Strategic Defense Command
Kit Contents: The Estes 1270 kit contains plastic nose cone, main body tube, 18mm engine mount assembly, one balsa sheet, an 18" parachutes, launch lug, decal and instructions.
Availability: I believe the Nike-X kit version with black paper hang tag may be more difficult to find than the earlier skill level hang tag version. Be prepared to spend well near $100 for a nice original kit with problem free hang tag.
Additional information can be found at the following link;
JimZ Kit Plan Link: Estes 1270
Specifications: Length 24.3", Weight 2.3 oz, Diameter 1.325"
Recommended 18 mm Engine: A8-3, B4-4, B6-4, C6-5
Estes Catalog Artwork