Astron Cobra
Kit# K-10/1210
Version 1 Pink Skill Level Hang Tag with $3.50 Pricing
Version 1 Pink Skill Level Facecard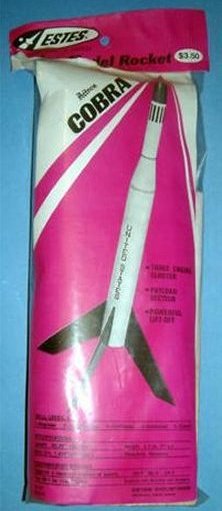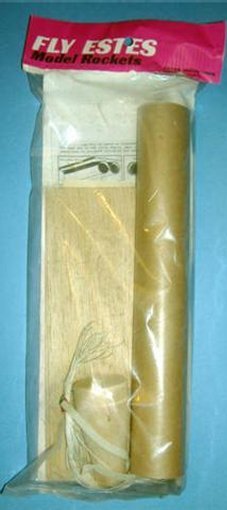 Images courtesy of Jimid123 at Ye Olde Rocket Forum
Designer: Bill Simon
Production Years: 1973
Retail Pricing Range: Catalog $3.00 while Hang Tag $3.50
Rarity: Very Rare
Description: Damon era Cobra rocket kit with Version 2 pink skill level hang tag and Version 1 facecard. Note the $3.50 pre printed pricing on the hang tag white oval versus the 1973 $3.00 catalog price. It is believed that this kit variety was only produced during 1973, the last year of K-10 kit production. The facecard is typical mid 70's illustration with pink and white background with the white and black Cobra overlay. Kit specifications and engine recommendations are located at the bottom of the facecard.
The Cobra was the first Estes 3 engine cluster model rocket design introduced in 1964 with 1" diameter payload capsule for experimental projects.
Kit Contents: The kit features a main body tube and payload tube, balsa nose cone, balsa adapter, two sheet of balsa stock for fins, triple engine mounting system, 18" plastic parachutes, launch lug, instructions and Estes TR-6 technical report on clustering techniques.
Availability: Estes pink skill level kits are estimated to be very rare. No appearance has been recorded on eBay since 2008. 1973 marked the tenth year of Cobra availability with decreased demand resulting in small kit production run.
Additional information can be found at the following links;
JimZ Kit Plan Link: Estes K10
Essense Model Rocket Reviews: OOP K10 Cobra
Specifications: Length (22.25 in), Weight (2.5 oz), Diameter (1.6 in)
Recommended (3x) 18 mm Engines: A8-3, B6-4, C6-5
Estes Catalog Artwork