1838-O
Variety 102
Obverse 1.2: Medium Level Date
Reverse B: Normal Mintmark [mm Lt,H,TR7]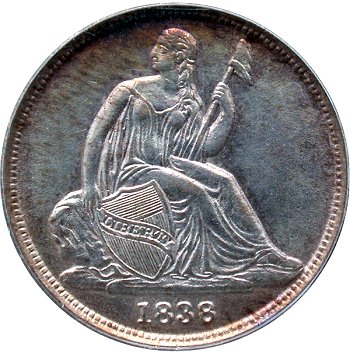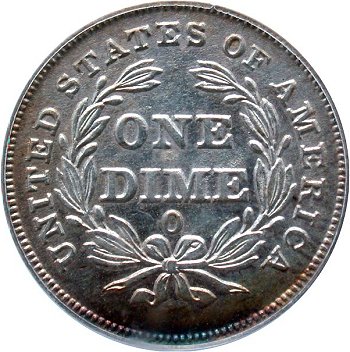 Obverse 1.2 Reverse B
Obverse Diagnostic Point(s) Reverse Diagnostic Point(s)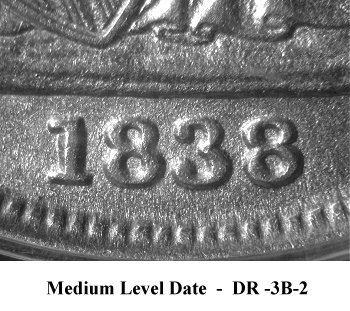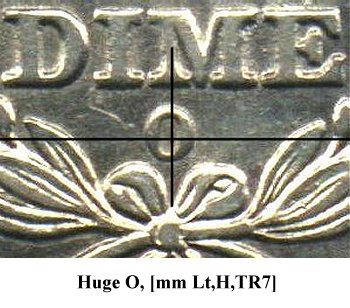 Comments: Obverse 1 is paired with a second reverse die. During this die pairing, Obverse 1 continues to erode with excessive wear of the denticles, the date punch and the region above Liberty's legs.

Kam Ahwash indicated that a second set of obverse and reverse dies was used for the Ahwash 2 variety. Close inspection of several AU and Mint State examples has convinced me that only one obverse die was used for all 1838-O coinage. Ahwash's comments about weakness on the head, denticles and horizontal shield lines for A-2 were accurate. That weakness was the result of an overworked obverse die.

The right tilt of the Reverse B Huge O mintmark is the easiest diagnostic point by which to quickly identify the two different 1838-O die pairings.

Reverse B will be once again employed by the New Orleans mint to produce the 1839-O Huge O variety. This reverse exhibits heavy die rust surrounding DI(ME). Ahwash indicates that 121,600 Variety 102 pieces were struck during January 1839.
Plate Coin: G. Fortin Collection, PCGS AU55
Back to Date and Mintmark Table