1881
Variety 103
Obverse 3: Proof Die, Medium Date, Upward Slope, Partial S & O
Reverse B: Proof Die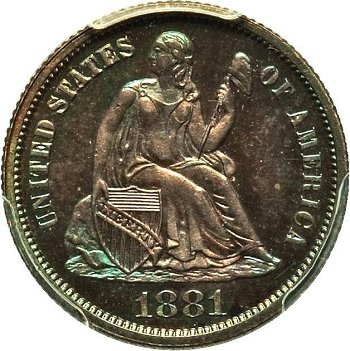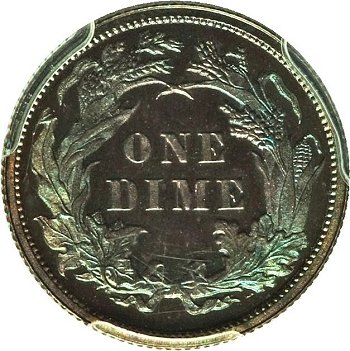 Obverse 3 Reverse B
Obverse Diagnostic Point(s)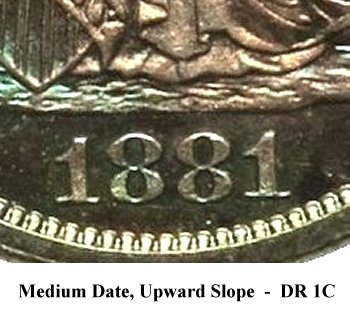 Comments: Proof Obverse 3 is easily diagnosed by a date position that is far right of that seen on Varieties 101 and 102. Denticle Ruler measurement is DR 1C as compared to DR 0C and DR 0L for other proof obverse dies. Reverse die appears to be Reverse B but more study of a physical specimen will be required for confirmation.
Third 1881 proof obverse was discovered by John Dannreuther during his comprehensive proof coinage research project. The incremental proof obverse was reported to the author in late September 2014 and is initially listed at R6+ rarity. A review of Heritage Auction archives for population study revealed three observations (PF66, PF65 Cameo and PF63) within the database.
John Dannreuther shared quarterly 1881 proof mintage figures secured from the National Archives as follows.
January/March - 675, April/June - 50, July/September - 0, October/December - 460.
John believes the 1881 Variety 101 proofs were struck during the first quarter as the most prevalent in the market while the newly discovered Variety 103 proofs were struck during the second quarter. Based on this assumption, Variety 103 proof mintage is limited but the high survival rate will allow more specimens to enter the market over an extended period of time. Regardless, the 1881 proof Variety 103 will be challenging and a prize acquisition for advanced Liberty Seated dime collectors.
Plate Coin: Heritage Auction Archives, PCGS PF66