1839
Variety 106ab
Obverse 3.2: Business Strikes, Star 8 Repunched
Reverse F.2a: Business Strikes, Die Spur on O(F), Reverse Rotated Left 86 Degrees
Obverse 3.2 Reverse F.2a
Obverse Diagnostic Point(s) Reverse Diagnostic Point(s)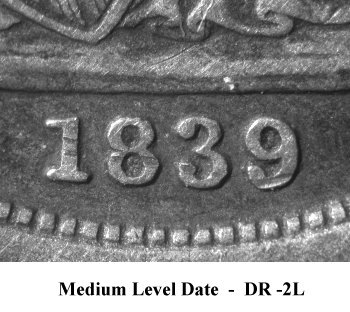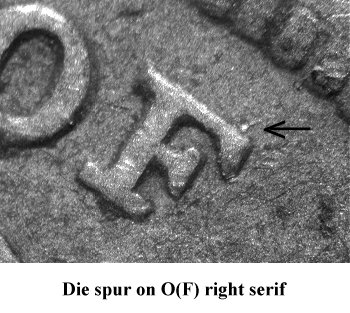 Comments: During March 2014, Jason Feldman provided the author with an 1839 dime cherrypicked years ago with reverse rotated left by approximately degrees. This dime came as a complete surprise. Careful study revealed the dime to be struck from the Obverse 3 and Reverse F die pair which were re-used for business strike coinage after several proof strikes. The initial few production strikes seen have the obverse and reverse in normal coin turn die alignment. The typical business strikes die alignment from this die is reverse die rotated left 18 or 23 degrees.
A second example in VG8 grade surfaced in late April 2014 in the New England area.
On this piece, Obverse 3 exhibits its primary diagnostics including a date punch position measurement of DR -2L and repunching on Star 8. There is no die crack from rim to Liberty's head which confirms an early Obverse 3 die state during this 90 degree rotated reverse event. Given the early obverse die state, it must be assumed that this piece was struck between the timeframe of normal coin turn die alignment and later business strikes with obverse die crack through the head and reverse die rotation left of 18 or 23 degrees.
Two specimens have been reported with one being G6 details and the second being the plate coin. Estimating rarity is difficult but will be set at R7+ in VF or better.
Plate Coin: Courtesy Dale Miller Collection, VG8