1887
Variety 115
Obverse 15: High Level Date, Heavy Die Clash Right of Liberty
Reverse O: Clashed Die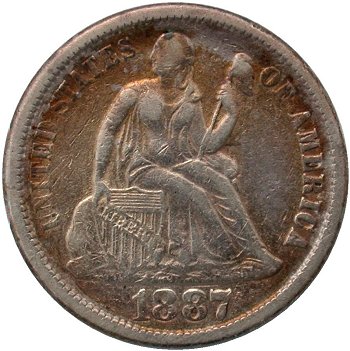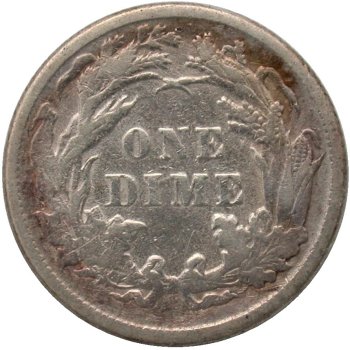 Obverse 15 Reverse O
Obverse Diagnostic Point(s)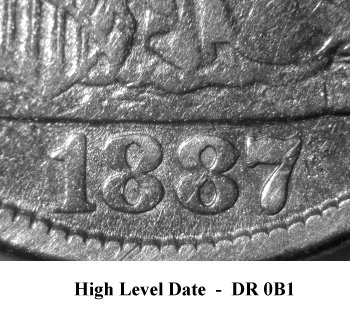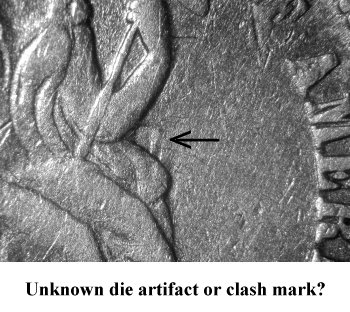 Comments: During early 2011, Chad Withrow contacted the author concerning an odd 1887 obverse die artifact. After the exchange of several emails and images, Chad sent the dime for analysis and inclusion in the web-book. On Obverse 15, there is an obvious depression below Liberty's arm and immediately to the right of drapery. At first, one would conclude die clashing. However the location and shape of the depression (on the dime) did not entirely match typically obverse die clashing. Also noted is the weak bottom of the pole as it intersects the arm.
During June 2013, Steve Allen presented another example of the 1887 Variety 115 for study. Steve's dime, as illustrated below, indicates that heavy die clashing is the root cause of the depression to the right of Liberty's elbow. Both obverse and reverse exhibit bold clash marks that are consistent with die clashing on Liberty Seated dimes.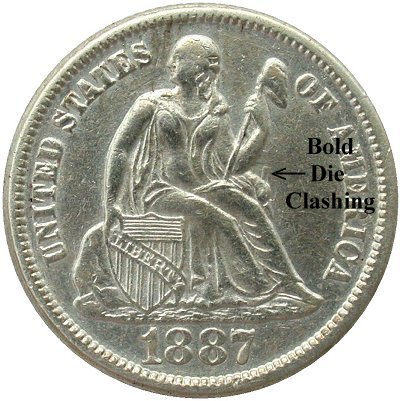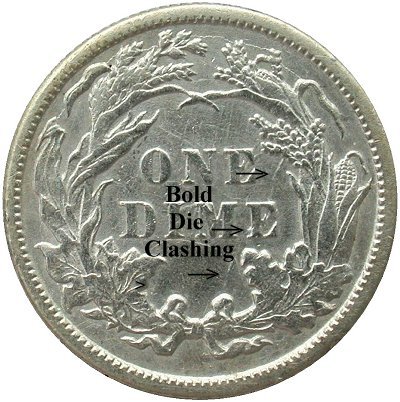 Obverse 15 date position is measured as DR 0B1 and is the furthest right of documented 1887 obverse dies. Reverse O is weak and appears to be in a late die state.
Plate Coins: Courtesy of Chad Withrow Collection, VF30 and Steve Allen Collection, AU50