1842-O
Variety 104
Obverse 3: Medium Level Date
Reverse D: Small O, [mm Rt,H]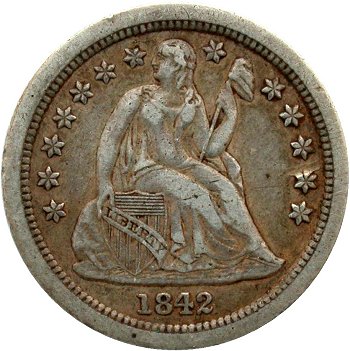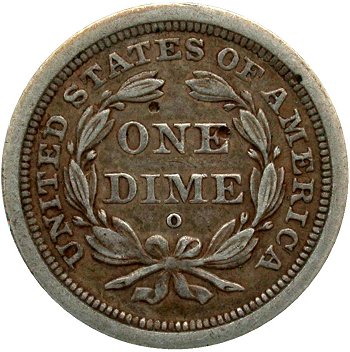 Obverse 3 Reverse D
Obverse Diagnostic Point(s) Reverse Diagnostic Point(s)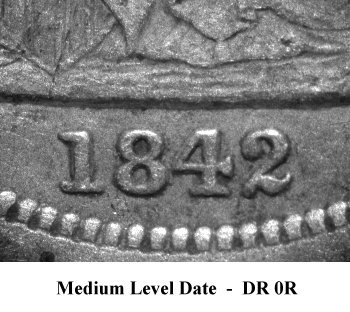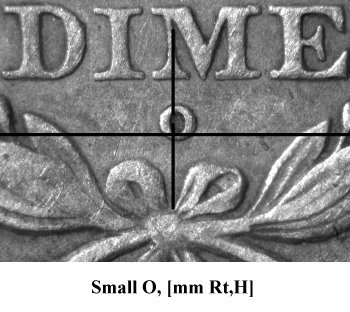 Comments: Obverse 3 is only known to be paired with Reverse D. Reverse D is the single 1842-O reverse die with a Small O mint mark.
Reverse D, on the plate coin, is in an early die state with no visible die cracks.
The 1842 Small O variety is scarce in lower grades and becomes very rare in grades of EF or better. Greer reported seeing only two examples that he would consider as grading AU, with no knowledge of a mint state example.
1842 Small O dimes can be located with and without an obverse rim cud from Star 3 to Star 6. I believe the earlier Variety 104 die state without the rim cud to be more difficult than Variety 104a with the obverse rim cud. Flat strikes including a weakly defined head are an additional issue with Variety 104 surviving examples.
Plate Coin: Rare American Coins Inventory, VF35
1842-O Varieties 101, 102, 102a, 102b, 103, 104, 104a, 105, 106, 107, 107a