1843
Variety 104
Obverse 4: High Level Date, Repunched 8 Under Left Lower Loop
Reverse D: Perfect Die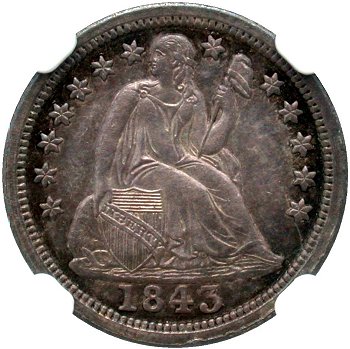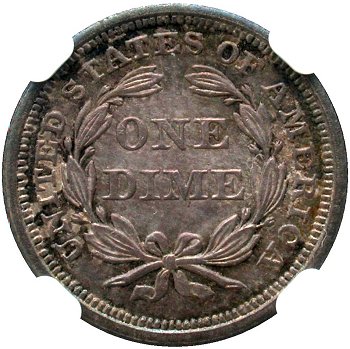 Obverse 4 Reverse D
Obverse Diagnostic Point(s)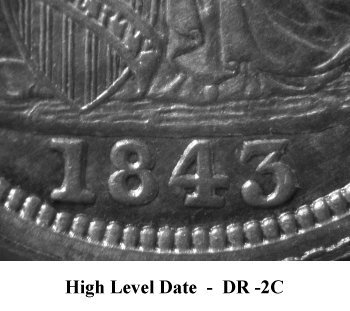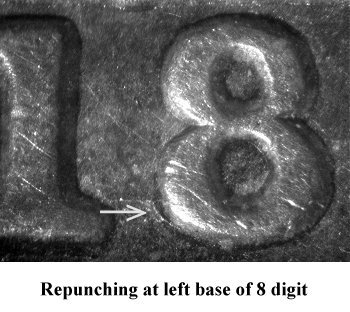 Comments: Obverse 4 is characterized by a bold date punch that nearly touches the base. The date punch is positioned at DR -2C and on well struck examples, faint repunching can be seen at the lower left base of the 8 digit. In addition, there are die chips around all stars on the plate coin except Star 1. The plate coin is well struck with star centrils clearly defined.
Variety 104 with Obverse 4.2 Die State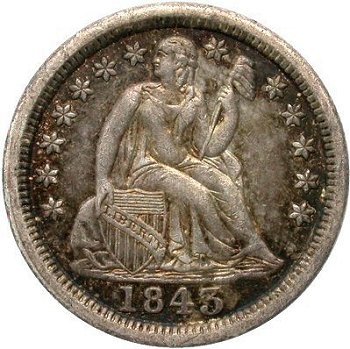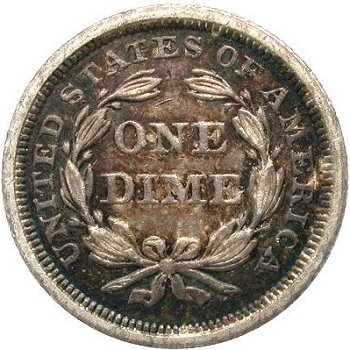 During July 2013, the above Variety 104 example was located without the repunching on the 8 digit. This dime shows the beginning of die crack through bottom of 1 and 8 digits in the date that proceeds right below the 4 and 3 digits. This die crack is the primary Obverse 4.2 die state diagnostic when paired with Reverse E. However, the above dime indicates that the die crack at the date did occur during the die pairing with Reverse D. I have decided to not create another sub variety listing but rather simple make the note within the Variety 104 listing.
As originally published during 2004, the web-book listed the 1843 Proofs as having been struck with same dies subsequently employed for business strikes. After purchasing the above plate coin and careful study of Heritage Auction Galleries' high grade plate coins images for 1843 proofs, this assumption DOES NOT appears to be justified. A close inspection of the below three images shows the two proofs to have same date punch placement and digit sizes with respect to the pendant. The pendant on the proof strikes is smaller than that of the business strike. This finding along with the business strike star chips and repunching on 8 digit suggests that the proof die was not reused for business strikes.
Comparison of 1843 Business and Proof Strike Date Positions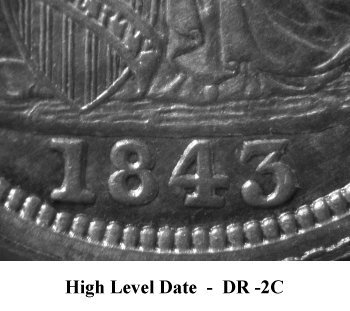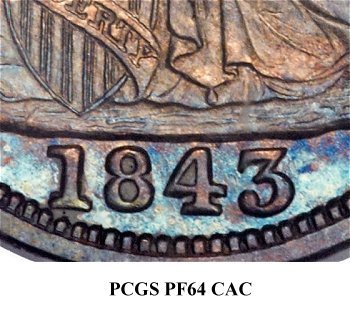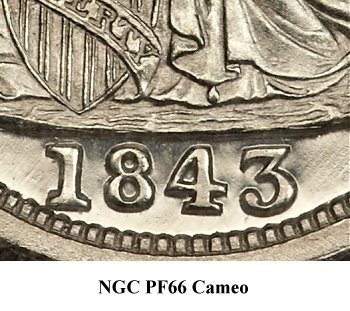 Plate Coins: G. Fortin Collection, NGC MS61 and EF45